Ryanair chief executive Michael O'Leary believes the carrier's recent run of court victories in overturning Covid state aid rulings should prompt European competition regulators to review their approach to such decisions.
Over the past few years Ryanair has launched – with limited success – more than 20 appeals against the state aid provided to European airlines during the Covid-19 crisis. However, earlier this month the European General Court annulled the approval of state aid provided to Lufthansa and SAS during the Covid-19 crisis, and later struck down approval of an Italian government provision of €130 million ($140 million) in pandemic support to certain carriers in the country.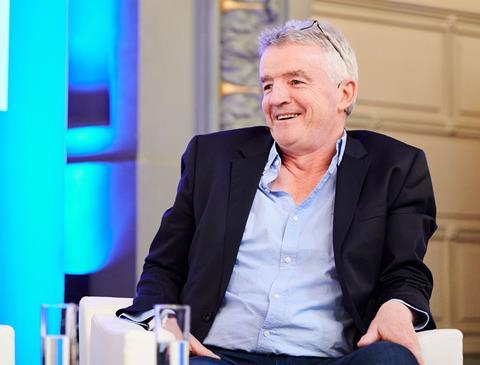 Speaking during a press briefing in Brussels today, O'Leary said: "We accepted some of these airlines needed state aid to get through Covid. All we ask is there should be some competitive reform. If you are giving Lufthansa €6 billion of state aid, why not require them to hand over some slots at Frankfurt Main or Munich. Why not ask KLM to hand over more slots in Schiphol."
He argues there are "lots of things" that European competition commissioner Margrethe Vestager could have done, but says "instead she rubber-stamped" the state aid.
O'Leary says he wrote to the Commission proposing such remedies for the granting of state aid but to no avail. "We want them to learn and improve the way the European Commission oversees these kind of mergers or these mass infusions of state aid," he says, arguing it is more important now that Lufthansa has agreed a deal to buy Italian carrier ITA Airways.
"Why don't they require that Lufthansa grows ITA's traffic by 50% over five years," he says. "That would be good for the Italian market instead of just sucking the traffic into Frankfurt and Munich. Why not require ITA to give up some of the slots that it has in Rome Fiumicino and Milan Linate, where they have the dominant position on slots – not necessarily to Ryanair, to other airlines."
Lufthansa is hoping to secure European competition approval for its acquisition of a stake in ITA by the end of the year and group chief executive Carsten Spohr argues ITA's market share – relatively low for a European flag carrier – warrants quick approval. Indeed, he notes that Ryanair is the dominant player in the Italian market.
"I smiled when I heard Carsten Spohr criticising Ryanair, which has about a 40% share of the market, as having a monopoly, which is rich coming from a German who has about a 70% control of the German domestic market and who has put up his prices about 100% in the last year," he says.
"We don't expect our market share to rise in Italy much beyond 40%, but the only reason our market share has grown to 40% is as a result of Covid. Alitalia reduced its fleet from about 120 to 55, they withdrew from a lot of domestic flights. Ryanair charged in there last year and added 35 more aircraft, another 20 this year. Wizz also grew in Italy, EasyJet grew in Italy.
"Italy is a vibrant market, as Carsten Spohr will find out," he says, adding: "We are still growing very strongly in Italy."
He does though describe Lufthansa's acquisition of ITA as "sensible", noting: "Europe needs more consolidation and anybody would be better at running ITA than the Italian government, who have shown themselves over 75 years to be spectacularly incompetent at owning and running a flag carrier airline. So Lufthansa acquiring ITA is probably good and is part of the inevitable consolidation of European airlines."