It is "too early to say" if the Omicron variant of the coronavirus will have a significant impact on travel demand, says Cathay Pacific, as it acknowledges that it is "lagging behind" regional rivals as a result of the city's strict zero-infection strategy.
On the impact of the Omicron variant on bookings, Cathay chief customer and commercial officer Ronald Lam says: "It's too early to assess by the impact on the travel demand."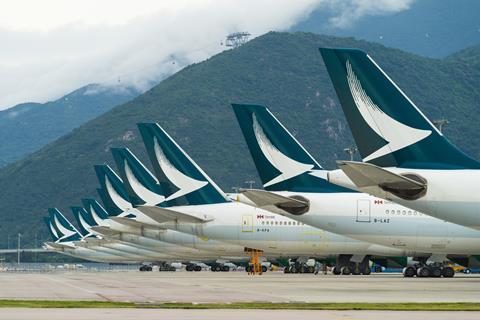 Lam notes that restrictions imposed by the city since the discovery of the variant have had "some impact, but it is still too early to say as the situation is still evolving".
He was speaking at an analysts' briefing on 1 December.
Hong Kong was among the first places to report infections relating to the Omicron variant. The city has a strict 'zero-Covid' strategy in line with Mainland China — one of the last remaining places to do so even while other countries are reopening borders.
The tightened measures have placed "operational constraints" on Cathay, says Lam.
The Oneworld carrier's passenger capacity year-to-date is just 7% pre-pandemic levels, and it expects to only operate at around 10% pre-pandemic capacity through the end of the year.
Asked if the city's onerous restrictions were hurting its long-term competitiveness, Lam says: "I think Hong Kong and Cathay Pacific…are lagging behind compared to many other airlines, in terms of our…[passenger] capacity."
"But I believe this is a temporary issue. No doubt, there will be a gap for the foreseeable future, but…at some point in time Hong Kong and Chinese mainland will open up to international markets. There will be a gap, but I don't think it will cause any long-term structural issues," he adds.
Lam also expressed optimism of the reopening of general travel between the Chinese mainland and Hong Kong, which he says "will certainly benefit Cathay Pacific".
At the briefing, Cathay stressed that it is maintaining a strong liquidity position, as monthly cash burn comes down and amid a strong cargo sector.
Company estimates as at 31 October indicate liquidity at nearly HK$32 billion ($4.06 billion).
The carrier in November forecast a narrowing of losses in the second half of the year compared to the first half, though it would still be in the red.