Philippine Airlines (PAL) has said there is "no certainty" its business restructuring process will end by 2021, noting that a variety of factors will affect the timeline.
The carrier was responding to a news report by the Manila Bulletin, which cites PAL president and chief operating officer Gilbert Santa Maria as saying that the embattled carrier will exit restructuring by this year.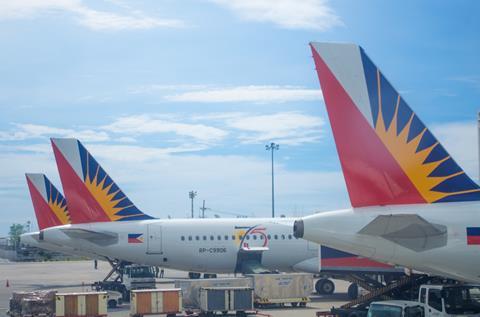 Santa Maria was speaking at a press briefing, days after the carrier filed for bankruptcy under Chapter 11 in New York, a move that had been long anticipated.
"Only an asteroid hitting Manhattan can stop us from exiting Chapter 11 this year," he was quoted as saying.
The carrier, in a 7 September stock exchange filing, says Santa Maria was expressing "a statement of hope or wish…that the Chapter 11 process will end quickly". It notes that the statement is not "based on any legal consideration".
"There is no certainty that the judicial proceeding will terminate quickly that will allow PAL to exit Chapter 11 process before the end of 2021. It will all depend on the acceptance, oppositions or agreements of the creditors, lessors and other stakeholders to the proposed rehabilitation/ restructuring of PAL," the airline adds.
PAL's restructuring plan, which is subject to court approval, will provide more than $2 billion in permanent balance sheet reductions from existing creditors and allows the airline to cut its fleet capacity by 25%. It also includes $505 million in long-term equity and debt financing from PAL's majority shareholder and $150 million of additional debt financing from new investors.
The carrier was also reported to be targeting a fleet size of 70 aircraft, down from 92 jets currently.