Singapore Airlines' group operating profit grew 15.7% during the third-quarter to S$449 million ($323 million) on the back of strong growth in the passenger business, and despite declining cargo earnings.
Group revenue increased year-on-year by 3% to S$4.47 billion during the quarter ending 31 December 2019. This was driven by a S$239 million – or 7% – increase in passenger revenue, which, Singapore Airlines says, was boosted by the group's transformation programme that has increased sales and cut costs.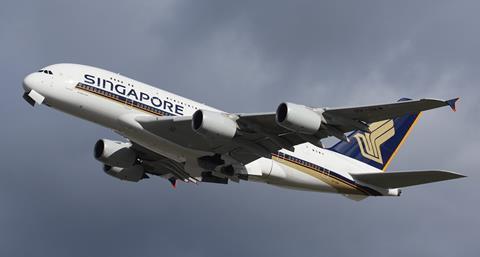 Traffic grew 8.3%, while capacity as measured in ASKs increased by 4.9%.
Cargo revenue, meanwhile, declined by S$112 million as freight yield fell 9.3% and load factor reduced by 4.6 percentage points to 61.4%. The airline cites trade uncertainties and a manufacturing slowdown in Europe and Asia as reasons for the decline.
Singapore Airlines says its cargo arm "will continue to pursue charter opportunities and deploy to match demand".
Group expenditure increased S$68 million – or 1.7% – to S$4,022 million as a result of a $113 million rise in non-fuel costs. The airline attributes this to both the increase in capacity as well as higher traffic. Net fuel costs declined S$45 million mainly due to a fall in the average jet fuel price post-hedging.
Singapore Airlines notes that the coronavirus outbreak poses "significant challenges" and that demand to mainland China has been severely affected. The airline group already has "drastically reduced" its services to the country and says it will be "proactive and nimble in making appropriate network adjustments and managing costs tightly".
The airline group has set up a dedicated "high-level task force" to monitor the situation and has started to disinfect aircraft cabins, modify in-flight services and has stopped crew layovers in China.
Operating profit at Singapore Airlines' mainline grew 11.9% to S$413 million on the back of a 9.7% rise in traffic. The carrier increased capacity 6.9% during the quarter.
Silk Air's S$7 million operating profit was flat compared with the same period the year before. The carrier's capacity shrunk 8.2%. Singapore Airlines says this was primarily attributable to the Boeing 737 Max grounding and a transfer of routes to budget subsidiary Scoot, as Silk Air is being integrated into the parent carrier.
Scoot delivered an S$4 million operating profit, $3 million more than during the same period of 2018. The carrier's total revenue increased $15 million, while expenditure rose $12 million in line with capacity growth, Singapore Airlines says.
Operating profit at the group's MRO arm SIA Engineering was stable at S$16 million. Revenue fell S$4 million due to a reduction in airframe and line maintenance revenue. But the company also reduced expenditure by $4 million, primarily as a result of lower material costs.