Philippine Airlines parent company PAL Holdings rebounded to profitability in the three months to 31 March, on the back of a dramatic rise in revenues following easing of travel restrictions in key markets around the world.
The company posted a net profit of Ps1.3 billion ($24.8 million) for the three-month period, its second consecutive quarter of profitability. The net profit compares to the staggering Ps8.6 billion net loss in the same period last year.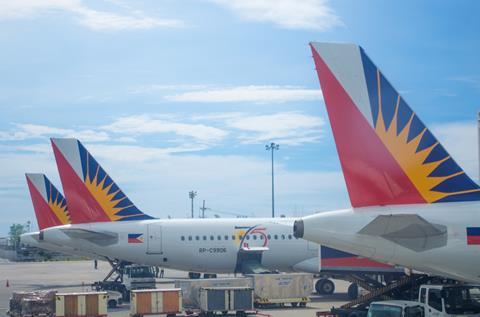 Group revenue for the quarter was Ps23.6 billion, nearly a three-fold increase year on year. This was led by a tripling of passenger revenues to Ps17 billion, with cargo revenue rising 72% year on year.
"The uptick in revenues reflect a stronger recovery in travel volumes as borders reopened in the Philippines and other key markets in Asia, Australia and North America. The cargo sector continued its strong performance," says PAL Holdings.
Quarterly expenses rose about 65% to Ps21.8 billion, led mainly by rising fuel costs coupled with an increase in flight operations.
Philippine Airlines president and operating chief Stanley Ng says: "We welcome the financial turnaround demonstrated by the positive operating results for the first quarter of 2022. Just the same, we must not lose sight of the considerable headwinds we continue to face, brought about by rising fuel prices, the economic fallout from geopolitical events such as the conflict in Ukraine, and the incomplete recovery in travel markets, as certain Asian regions have yet to fully open their borders."
He adds: "To protect the gains we've made so far, we must be resolute in exercising fiscal discipline and faithfully carrying out our restructuring initiatives."
PAL, which successfully exited restructuring on 31 December 2021, expects to return to pre-pandemic domestic capacity no later than end-September this year, as it rolls out a "major network re-expansion" across the country and internationally.