An "overwhelming majority" of pilots with Canadian start-up carrier Lynx Air have filed membership cards requesting to join the world's largest pilots' union – the Air Line Pilots Association, International, (ALPA).
Pending review from the Canada Industrial Relations Board, about 80 Lynx pilots stand to gain ALPA representation as they seek their first collective bargaining agreement, the union said on 7 May.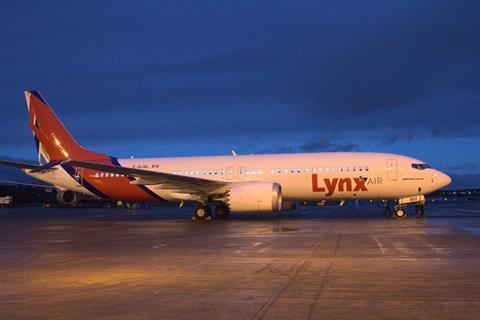 "Lynx pilots will soon have access to ALPA's vast resources and support from Canadian ALPA pilots from coast to coast," says Tim Perry, president of ALPA Canada. "By joining the world's largest airline pilot union, Lynx pilots will have a strong voice in their future, and together we will further enhance our profession."
A privately owned ultra-low-cost carrier, Lynx entered Canada's discount airline market in 2022, launching revenue flights with new Boeing 737 Max 8s.
On 2 May, Lynx took delivery of the first of 11 Max 8s it plans to lease from Singapore-based lessor BOC Aviation, bringing the start-up's fleet to seven aircraft.
Also earlier this month, Air Canada's pilots – which had been collectively represented by the Air Canada Pilots Association (ACPA) – voted to merge with the larger union, which in recent months has been on a streak of winning pilot contracts with Delta Air Lines, Hawaiian Airlines, JetBlue Airways and Spirit Airlines.
WestJet pilots recently voted to strike, if necessary, as they continue negotiating with Canada's second-largest carrier on a new contract.
On 8 May, hundreds of WestJet pilots participated in demonstrations at Vancouver International, Calgary International and Toronto Pearson International airports, asking "for the same contractual provisions pilots at nearly every other airline enjoy", WestJet's ALPA group says on social media.
ALPA currently represents more than 69,000 pilots at 39 airlines in Canada and the USA.