US-based logistics specialist FedEx is downplaying its pilots' vote to authorise a potential strike as a collective bargaining tactic that will have "no impact on our service".
In a 16 May vote, FedEx pilots – who are represented by the Air Line Pilots Association, International (ALPA) – approved the strike authorisation, which is one of several steps necessary for a strike to occur.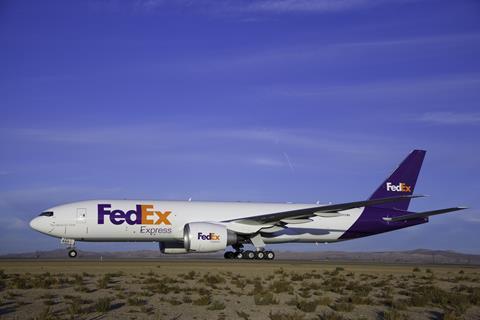 "ALPA's announcement is consistent with the recently announced authorisation votes from other represented carriers who continue to bargain without any interruption to their operations," FedEx said on 17 May.
"While strike authorisation votes are a common tactic for labour organizations during Railway Labor Act negotiations, strikes are only possible with the express permission of the National Mediation Board," says the Tennessee-based company. "At this time, we are still in productive negotiations with our pilots under the supervision of a government-appointed mediator and will return to the bargaining table next week."
FedEx flight crews are working under "provisions and benefits negotiated in 2015", ALPA says. The pilots' contract has been amendable since May 2021.
"Our goal is to reach an agreement, not to strike," the union says. "The ball is in management's court, and it is time for the company to get serious at the bargaining table and invest in our pilots."
FedEx pilots are not alone in threatening to strike without new labour agreements with airlines.
On 15 May, ALPA said it had given a 72-hour strike notice to WestJet and the Canadian government, and the airline responded by threatening to lock out its pilots.
Pilots represented by the Southwest Airlines Pilots Association voted in favour of a strike authorisation on 11 May.
Also on 17 May, ALPA's executive board approved the merger between ALPA and the Air Canada Pilots Association. Air Canada is ALPA's 40th pilot group, growing the union's worldwide membership to more than 73,000 pilots.