Qantas Airways chief executive Alan Joyce expects that the airline will only recover 50% of its international market by its 2022 fiscal year.
Joyce says while there is strong pent up domestic demand in Australia, international travel to some markets, namely the USA, will depend on a vaccine.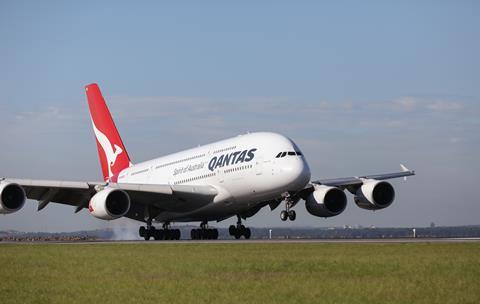 Joyce made the remarks in a televised interview on business news channel CNBC.
He was speaking following the company's full-year results for its 2020 financial year to 30 June. The group generated an underlying profit before tax of A$124 million ($89 million), down 91% from a year earlier owing to the disruption wrought by the coronavirus.
"We were very confident that there is pent up demand, and that we should be able to benefit from that domestically," he says.
"And internationally, we think we'll take a bit of time to recover. So, in financial year 2022 we're only expected to get 50% of our international operation back."
This means that the airline's 12 Airbus A380s, which have been placed in long-term storage in the Mojave Desert, will take about three years to get back in the air.
Apart from a renewed domestic outbreak of the virus, Joyce believes that Australia has done "very well" suppressing the virus. Should virus cases drop, he anticipates state borders in Australia will start to open up, to the benefit of Qantas's domestic operations. He says a "travel bubble" could open with New Zealand in early 2021, and notes the governments are still in talks about this arrangement. This could later expand to other destinations.
"But some of the big markets like the United States, I think we're going to be dependent on the vaccine, and I think the optimism now is that that's likely to happen maybe in the middle of next year towards the end of next year…our chief medical officer is a lot more optimistic than he was a couple of months ago."
In the meantime, he says Qantas will focus firmly on managing cash. He estimates that the carrier is spending less than A$40 million weekly, and that it has A$4.5 billion in liquidity, giving the airline "enough bandwidth to get through 2021 and well into 2022."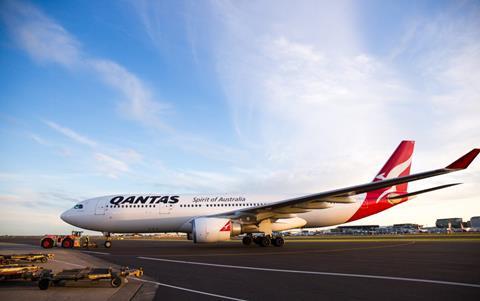 Joyce also touched on the decision to store the airline's 12 A380s in the Mojave Desert.
He noted that the airline has a large maintenance base in Los Angeles, and that the stored aircraft are within driving distance of the company's engineers.
"We have made the decision the A380s are probably the last aircraft we'll put back in the air because they're very big and we don't think the demand will be there for at least three years," he says.
"[As for] the [Boeing] 787s we're keeping that more flexible, we don't think there'll be a need extensively for them until the middle of next year, or keeping two available if we need to get them in the air. We have a lot of A330s that can fly internationally. So if international recovers earlier than that, [to] places like New Zealand, we'll have plenty of aircraft that we can operate."
Cirium fleets data indicates that Qantas has 47 passenger aircraft in service, comprising 10 A330-300s and 37 737-800s. It's 79 stored aircraft comprise 18 A330s, 12 A380s, 38 737-800s, and 11 787-9s.
Also listed in storage are four 747-400s, a type Qantas retired in July.