Qantas expects domestic competition to heat up over the next six months as state borders reopen, but has remained upbeat about its prospects.
The carrier, which also forecast a staggering loss in a lockdown-plagued half-year, sees domestic capacity surpassing pre-pandemic levels in the first three months of the new year.
Already, it is flying at close to 75% pre-pandemic capacity through the end of December, reflecting pent-up domestic travel demand, says the airline. Together with its low-cost unit Jetstar, Qantas states that it is holding "significant levels" of domestic flight bookings over the year-end holiday season.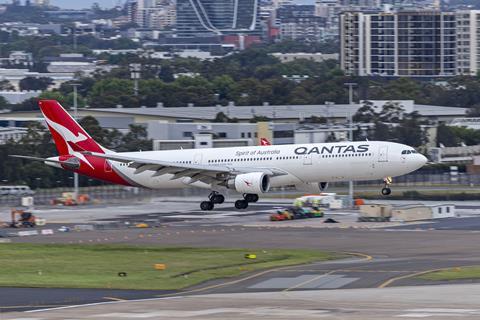 The airline also sought to downplay the long-term impact of the newly-discovered Omicron variant of the coronavirus.
While it acknowledges that the news of the Omicron strain has led to "a significant drop in booking momentum" — especially for international flights — the airline states that booking activity has started to pick up again, and "current loads have held".
Initial bookings on newly-launched routes to India and Italy have shown "encouraging" signs, the carrier states.
Still, the uncertainty surrounding the new variant has led the carrier to delay its international restart plans to countries like New Zealand, Japan and China. It has also postponed the launch of flights between Sydney and Brisbane to San Francisco.
It has revised its international capacity estimates downwards by about 10 percentage points for the six months to 30 June 2022.
Says group chief Alan Joyce: "The news of the Omicron variant had a clear impact on people's confidence to book international trips in particular, but we haven't seen large numbers of cancellations. Many customers have strong intentions to travel if the border and quarantine settings are right and in the past few days we have seen intakes improve."
He adds: "Domestic demand has started to pick up again and we're expecting a strong performance over the Christmas period and continued strength into early next year as more restrictions ease."