Australia's Qantas Group has made adjustments to its schedule as it eyes the opening up of state borders, and remains optimistic about an 18 December restart for international travel.
The group, comprised of mainline operator Qantas and low-cost unit Jetstar Airways, is basing its assumptions on continued vaccination drives in Australia, as well as the coronavirus pandemic internationally.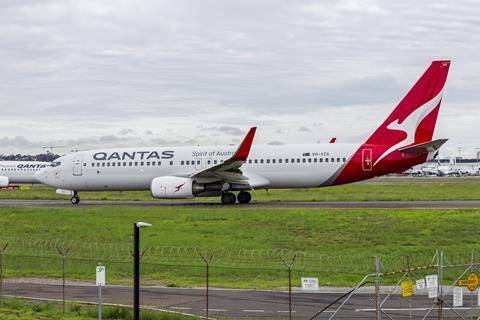 Based on the reopening plan of the Australian state of Victoria, the group will bring forward flights between there and New South Wales to 5 November, compared with 1 December previously.
The carrier will also be "significantly increasing" regional flying within New South Wales from 25 October, aiming for 40% of pre-pandemic levels.
On the other hand, the reopening of domestic flights to Western Australia from Victoria and New South Wales will be pushed back two months to 1 February 2022. The carrier now operates five return flights weekly between Perth and both Sydney and Melbourne for those with travel permits.
As for the 18 December international opening, this is predicated on the country reaching the 80% threshold with Covid-19 vaccinations.
In addition, Qantas is looking at operating its direct Boeing 787-9 service to London from Darwin, not Perth. Qantas chief executive Alan Joyce says that Western Australia is not considering an international opening until "sometime next year", precluding the re-launch of the London-Perth service.
"The discussions for what would be a daily Melbourne-Darwin-London service focus on the logistics of domestic and international transit under the current [Northern Territories] government plan for Covid-Management at Stage 3 of the National Plan," says the carrier.
If the plans to fly through Darwin don't pan out, the service will instead operate as a Melbourne-Singapore-London service "until at least April 2022." Qantas will make a decision within the next two weeks.
Adds Joyce: "The pace of the vaccine rollout means we're still on track for international flying to restart from 18 December onwards. People are clearly keen to travel. We saw a 175 per cent spike in web searches in the week after we announced our plans and we've seen strong bookings for December and January for our flights to London, Los Angeles and Singapore in particular."
Separately, Australia's Regional Express (Rex) says that continued lockdowns in Australia means that it has "no choice" but to extend the suspension of its domestic and regional services until 31 October.