Being vaccinated against Covid-19 is likely to become a prerequisite of flying internationally with Qantas, according to the airline's chief executive Alan Joyce.
"We are looking at changing our terms and conditions to say for international travellers… we will ask people to have a vaccination before they can get on the aircraft," Joyce stated today during an interview on the Current Affair programme on Australia's Channel 9.
He adds that for domestic flights, "we'll have to see what happens with Covid-19 and the market".
But when it comes to international travellers being vaccinated – covering people leaving and arriving in the country – "we think that's a necessity", Joyce says.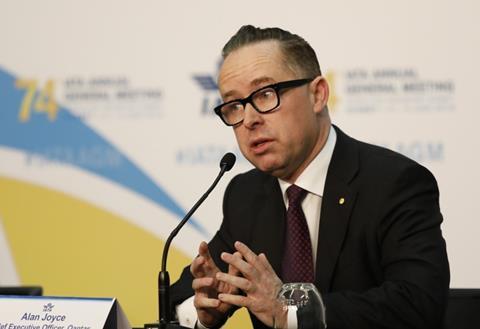 Joyce's comments come on the day that encouraging results were published for another Covid-19 vaccine – this time from the AstraZeneca-Oxford University trials.
In Qantas' home country, the Australian government has previously said that while it will not make Covid-19 vaccination mandatory for its citizens, "there may… be circumstances where the Australian Government and other governments may introduce border entry or re-entry requirements that are conditional on proof of vaccination".
Joyce was also speaking as this year's IATA AGM gets under way, with one of the key topics being the challenges around the opening up of travel markets.
The airline industry body describes the concept of vaccination being mandatory for international travellers as a "very relevant consideration" as it works on the introduction of a health passport scheme called IATA Travel Pass.