Qantas has secured an additional A$550 million ($350 million) in debt funding, secured against three wholly owned Boeing 787-9s.
In March, the airline secured a A$1.05 billion, 2.75% interest loan for 10 years, posting as collateral seven of 11 787-9s described as unencumbered aircraft and "bought with cash in recent years".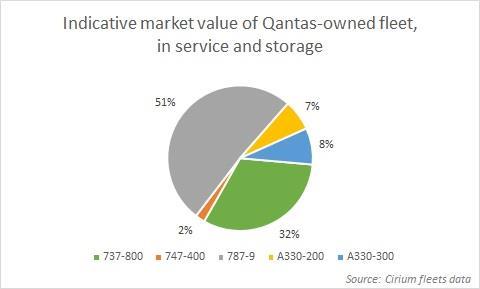 Following that transaction, Qantas had a further A$3.5 billion in unencumbered assets, it said on 25 March.
The group did not reveal details of the latest round of debt funding but says in a statement today it currently has A$2.7 billion in unencumbered aircraft assets and can raise funds against these if required.
It also disclosed a net debt position of A$5.8 billion, "within the middle of the target range", and has no financial covenants on any existing or new debt facilities and no significant debt maturities until June 2021.
Qantas says, "The group has sufficient liquidity to respond to a range of recovery scenarios, including one where the current trading conditions persist until at least December 2021.
"At the start of the crisis, the group acted quickly to wind down cash burn through employee stand downs, a pause on virtually all capital and operating expenditure, and revised agreements with key suppliers."
Based on current conditions, Qantas expects to reach a net cash burn rate of A$40 million per week by the end of June.
According to its 25 March update, the group had A$5.1 billion in net debt, while available cash balance stood at A$2.95 billion with an additional A$1 billion undrawn facility available.
Since then, cash outflows include an A$250 million bond repayment, elevated levels of annual leave payments from standing down more than 25,000 employees before the government's "JobKeeper" programme kicks in, and payment of bills from pre-crisis levels of flying activity.
As at close of business 4 May 2020, Qantas' total short-term liquidity stands at $3.5 billion, including a $1 billion undrawn facility.
Chief executive Alan Joyce says, "Our cash balance shows that we're in a very strong position, which under the circumstances we absolutely have to be. We don't know how long domestic and international travel restrictions will last or what demand will look like as they're gradually lifted."
He adds: "Our ability to withstand this crisis and its aftermath is only possible because we're tapping into a balance sheet that has taken years to build."
Cirium fleets data shows that the 11 787-9s, all powered by General Electric GEnx-1B engines and operated by the mainline carrier, were delivered between October 2017 and December 2019. They have a collective indicative market value of $1.3 billion.