Recent domestic lockdowns will cost the Qantas Group A$429 million ($331 million) in its 2021 financial year, but it is upbeat about prospects for the fourth quarter.
While Australia remains all but entirely shut off from international travel, it experienced a domestic recovery in late 2020. Unfortunately, renewed coronavirus outbreaks during the Christmas to New Year's travel period cost the group an estimated A$400 million in lost earnings.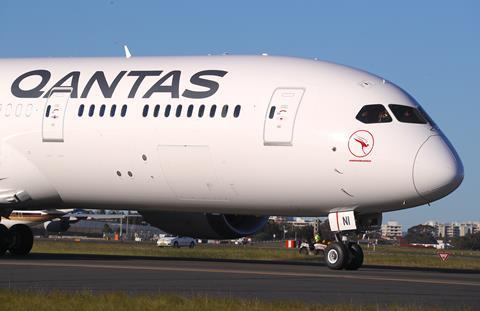 A subsequent short lockdown in Brisbane during the Easter travel period cost the group an estimated A$29 million.
Qantas made the disclosures in a 15 April business update. In its interim results for the 2021 financial year, Qantas swung to a massive underlying loss before tax of A$1.03 billion. The company's 2021 financial year ends on 30 June.
Nonetheless, Qantas strikes an upbeat tone about its prospects in the final quarter of the financial year. It expects domestic capacity to reach over 90% of pre-pandemic levels, up from its previous expectation of 90%.
Given strong leisure demand, low-cost unit Jetstar will operate over 100% of its pre-pandemic capacity, aided by six Airbus A320s on loan from its Jetstar Japan unit. In addition, Jetstar will deploy five Boeing 787-8s – which ordinarily service international services - on flights from Melbourne and Sydney to Gold Coast and Cairns.
"Qantas and Jetstar will have more aircraft operating on domestic and resources markets than pre-COVID, including all Boeing 737s and Airbus A320/A321s," says Qantas.
"Some aircraft which operate international flights including the entire A380 fleet (which are in long-term storage) and some Airbus A330s and Jetstar 787-8s, have not resumed flying."
It adds that the fourth quarter should see 90% of its overall fleet active, compared with just 25% in mid-2020. The entire Qantas 787-9 fleet is reactivated and operating repatriation flights in addition to some freight-only services.
Qantas and Jetstar have seen big demand for services to and from New Zealand, with the border reopening on 19 April.
"This is the longest run of relative stability we've had with domestic borders for over a year and it's reflected in the strong travel demand we saw over Easter and the forward bookings that are flowing in each week from all parts of the market," says Qantas chief executive Alan Joyce.
He acknowledged that demand has been helped by government policies. In early March, Canberra rolled out a A$1.2 billion support package for the aviation and tourism sectors, one element of which is half-price domestic air tickets.
Joyce, however, adds a note of caution: "It's important to keep this uptick in perspective. We are still facing a massive financial loss this year, which will be the second one in a row. We've lost more than $11 billion in revenue since the pandemic started and that number will keep growing until international travel recovers."
Qantas continues to prepare for a restart of international flights in late October, but can "bring forward, push back, or stagger" this based on guidance from the Australian government related to Covid-19 and the country's vaccine rollout.
On 13 April, Australian health minister Greg Hunt warned that vaccinations are "no guarantee" of an international reopening, and that a resumption of overseas travel "is based on a series of factors."