Qantas has signed a purchase agreement with fuel giant BP for 10 million litres of blended sustainable aviation fuel (SAF), which it will use on flights between Australia and London in the new year.
The Oneworld carrier also holds an option to purchase up to another 10 million litres of blended SAF for 2023 and 2024, making up around 15% of its annual fuel use out of London.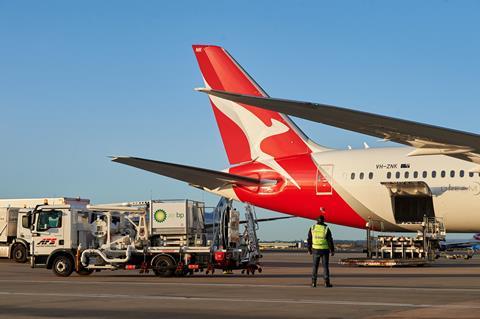 The move comes nearly a year after Qantas signed a partnership with BP to explore carbon emission reductions and SAF development, with aim of becoming net carbon neutral by 2050.
The use of blended SAF will cut emissions for the London flights – also known as the 'Kangaroo Route' – by around 10%, says Qantas, which will release its interim target for net zero emissions in the new year.
The carrier states that it will be the first Australian carrier to use SAF on an ongoing basis for regular scheduled operations.
It adds that it is "in discussions" with other overseas airports, such as Los Angeles, to access SAF. "These volume agreements are crucial to bringing the cost of SAF down, which can be several times more expensive than traditional jet kerosene," says Qantas.
Qantas group chief sustainability officer Andrew Parker says: "Aviation biofuels typically deliver around an 80% reduction of greenhouse gas emissions on a lifecycle basis compared to the jet fuel it is replacing and is the most significant tool airlines have to reduce their impact on the environment.
He adds: "Given the importance of aviation to Australia, and the distances we travel, there's a huge opportunity to build a local SAF industry here."
Qantas and its low-cost unit Jetstar have previously operated a series of SAF-powered demonstration flights, including one across the Pacific Ocean with biofuels derived from mustard seeds.