Governments around the world are not moving quickly enough to plan for the reopening of international travel markets, in the view of IATA, particularly when it comes to the creation of digital standards for Covid-19 testing and vaccination records.
Speaking during a briefing today, IATA director general Alexandre de Juniac reiterated the industry body's belief that the recovery in international air travel has the potential to begin in earnest during the upcoming Northern Hemisphere summer season.
But despite evidence that consumers and governments want digital apps such as IATA's Travel Pass to facilitate the safe return of that international flying, much work is left to do in terms of creating a "trusted" system.
Speaking at the same briefing, IATA's senior vice-president for airport, passenger, cargo and security, Nick Careen, explained: "If a government is going to request some form of assertation that you have had a test… or a vaccination… there will need to be processes in place that help to prove that, or [the recovery of air travel] will not be sustainable."
IATA's Travel Pass – and other similar apps – offer the digital infrastructure to deliver this, but they are useless if governments do not adopt mutually recognised standards and the processes to distribute trusted digital health records.
Some governments – notably those in Latvia and Panama – have been engaging with IATA on the issue, Careen observes.
But many are not, and are yet to show a willingness to match their enthusiasm for the return of international travel with concrete action to make it happen, IATA says. Among the potential consequences of this, countries may find they are unable to process passengers quickly enough at borders if there is no digital health records system in place.
Relying on paper-based systems would be ruinously slow and open to fraud, IATA believes.
"That's the number one education piece for governments," Careen states. "Without a properly integrated system in place, the return to service will be operationally unsustainable."
In a move that could potentially help governments to overcome that challenge, Careen notes that the World Health Organization, ICAO and the OECD are working on standards for a "smart vaccine card".
He also confirms that proposals for vaccine and testing passports from individual countries or blocs – such as the European Union's proposed 'digital green pass' – do not necessarily complicate the picture in terms of introducing the Travel Pass or other apps, because they can handle multiple sources of health records and match them with requirements through IATA's existing Timatic database.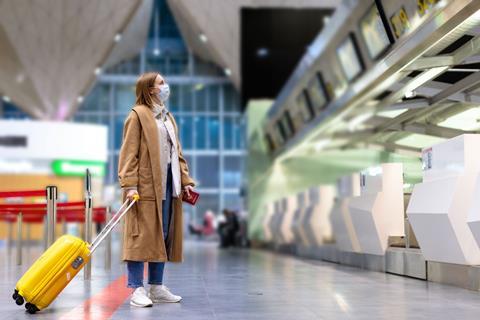 Nevertheless, acknowledging the challenges ahead, Careen cites the mixed results from IATA's push for Covid-19 universal pre-flight testing over the past year as a warning that progress is not guaranteed.
"Let's face it, we've been promoting testing since almost a year ago… but it never became a significant part of the process," he laments.
Careen and de Juniac were speaking days before Singapore Airlines begins the first full trial of IATA's Travel Pass app, which will cover passengers on the Singapore-London route from 15-28 March.
"It will really test the solution from one end to the other," says Careen of the app, which matches a passenger's identity with test and vaccination results from approved facilities, and then tells airlines and border guards whether those results match the requirements for a particular destination.
The full rollout of the app is dependent on the aforementioned need for governments to engage with the creation of health standards and processes. When that happens, IATA is relaxed about the idea that Travel Pass will be complemented by similar apps from other sources.
The key, Careen states, is that all such apps work to the same standards.
"Once we get the standards in place, we can develop the ecosystem," he states.
Careen also notes that while travel requirements around Covid-19 are only likely to be needed until the pandemic is controlled, the Travel Pass's digital travel credential element will have utility indefinitely.
"The creation of a digital travel credential is huge – for customer processing, for efficiencies, for turnaround times… once Covid is beyond us ," Careen states, highlighting the role it could play in facilitating the touchless travel experience, for example, through its biometric functions.
At the same time, it will better prepare the industry for another pandemic.
"When this happens again, we need to something in place so we are in a better position to manage it," says Careen. "This is the key if we see another pandemic."
As it pushes for action on the adoption of health standards, IATA is also calling on governments to work with the airline industry "to create a wider roadmap to restart international travel", Careen says, with de Juniac citing the UK as a rare example of a country that has announced a concerted effort to plan for such an eventuality.
Aside from Singapore Airlines, many other carriers and groups are involved with the introduction of IATA's Travel Pass through partial trials and input into its development stages, including Qatar Airways, Emirates, Etihad, IAG, Malaysia Airlines, Air Baltic, RwandAir, Copa Airlines, Qantas, Air New Zealand and Gulf Air.