Lufthansa Group chief executive Carsten Spohr believes the Covid crisis has accelerated the recovery of Eurowings, the low-cost unit it now expects to continue in profit after reaching that milestone in the third quarter.
Eurowings recorded an adjusted EBIT of €108 million ($125 million) for the three months ended 30 September, marking it out as the stand-out passenger airline for the group during a quarter in which cargo was the primary driver behind Lufthansa Group's return to profitability at an operating level.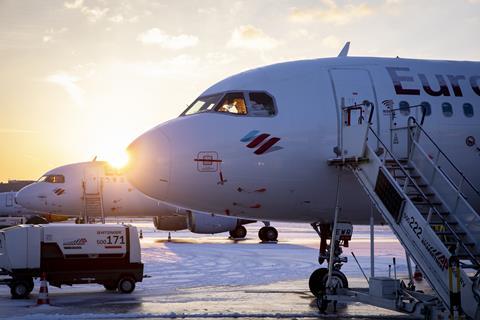 Eurowings' positive EBIT performance marks a turnaround on the €108 million loss recorded in the same quarter last year, and the €251 million loss in the first half of this year, when its flying capacity was heavily curtailed amid Covid travel restrictions.
But as restrictions began to ease, and demand for leisure and VFR travel in particular strengthened, Eurowings ramped up its operations.
Eurowings' capacity jumped from 10% and 25% of pre-crisis levels in the first and second quarters, to 62% in the third quarter.
The Eurowings segment also includes Turkish joint venture leisure carrier SunExpress. Speaking on a third-quarter results call today, Lufthansa chief financial officer Remco Steenbergen said that while Sun Express delivered a share of the profits in the third quarter, Eurowings was profitable in its own right.
"SunExpress profit is slightly more than half the €108 million, so Eurowings by itself made a strong profit and we expect that to continue," he says.
The Eurowings segment has posted an operating loss in four of the last five years and restructuring efforts were under way well before the Covid crisis hit.
Lufthansa credits the improved Eurowings to simplification efforts under which it has combined its activities in Germany into one operation, harmonised its fleet and reduced its overheads by 30%.
Spohr says: "They [Eurowings] have turned around this summer and are making money. And we look at them making money for the full year next year. So they are our tool to defend our market, but at the same time they are creating profitability and value. That's what we always intended them to do. It took some time – I can be honest about that – but now we are there. And actually Covid accelerated that success story."
Notably, alongside its German operations, the airline has recently expanded outside of its home market in opening bases in Stockholm and Prague; services from the Czech capital began yesterday.
The profit at Eurowings during the third quarter was in stark contrast to a loss of €450 million for its network carrier operations over the same period. That though was less than half the €1.2 billion loss recorded in the same quarter last year, and partly slowed losses from this part of the business for 2021. Losses over the first nine months for the network carrier operations stand at €2.9 billion.
Lufthansa adjusted EBIT for 9m 2021 by division
Division
Jan-Sep 2021
Jan-Sep 2020
Lufthansa Q3 report
Lufthansa
-€2,165m
-€2,635m
Swiss
-€393m
-€445m
Austrian
-€142m
-€233m
Brussels Airlines
-€199m
-€341m
Eurowings
-€144m
-€466m
Lufthansa Cargo
€941m
€427m
Group total
-€2,078m
-€4,161m