Fiscal first-quarter revenue for Transat AT – parent company of Canadian leisure airline Air Transat – reached C$667 million ($483 million), more than triple the company's C$202 million revenue during the same quarter in 2022.
But the Montreal-based leisure specialist reports a C$57 million loss during the three-month period ending 31 January as Annick Guerard, chief executive of Air Transat, acknowledges a "challenging" road to profitability as the airline continues its long recovery from the Covid-19 pandemic.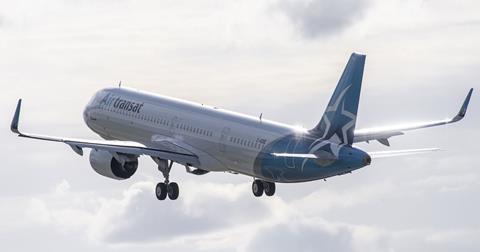 For comparison, the company lost C$114 million during the fiscal first quarter of 2022, during which the carrier cancelled nearly 30% of its flights thanks to the emergence of the Omicron variant of Covid-19.
Poor weather was a significant obstacle during Air Transat's first fiscal quarter of this year, as the airline cited "numerous disruptions and delays caused by inclement weather and operational difficulties at several airports across North America between late December 2022 and early January 2023".
A 46% increase in fuel prices also suppressed first-quarter profit, the company says.
Capacity, on the other hand, rebounded roughly to pre-pandemic levels as Air Transat reports a "satisfactory load factor" of 85%.
Overall, Guerard says that the "momentum that took shape in the second half of 2022 is being maintained".
"Our focus went from cash preservation, which is consistent with a crisis mode mindset, to focus on cash generation and profitability, which attests to a return to normalcy," says Patrick Bui, Transat's chief financial officer.
Air Transat also touted the modernisation and simplification of its fleet, though Guerard notes that "the industry supply chain is experiencing sporadic difficulties".
Specifically, three Airbus A321LRs that were expected to be delivered in the spring are now expected at the end of the 2023 summer travel season in the northern hemisphere, Guerard says.
"In addition, one Airbus A321LR is out of operation because it was damaged on the ground in Vancouver, so we don't have access to that aircraft," she says.
"This winter, we are operating 34 aircraft, compared to 55 in 2019," Guerard says, "which represents a reduction in physical capacity of 27%."