Australia's Regional Express (Rex) has commenced narrowbody operations in Australia, as it warns of continued challenges in the country's airline market.
Monday 1 March saw the carrier start operating Boeing 737-800 services on Australia's key Sydney-Melbourne route. It also has plans to expand its network to other major Australian cities, putting it in competition with Qantas and Virgin Australia.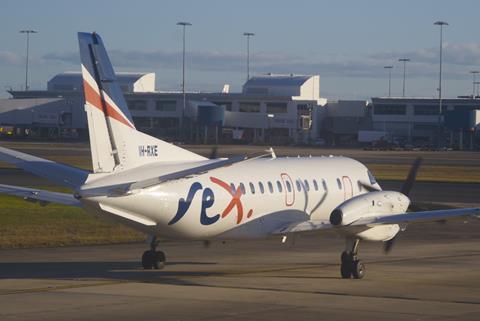 The launch of 737 services follows a 26 February results announcement, in which Rex said it suffered an half-yearly operating loss of A$900,000 ($698,000) for the six months ended 31 December 2020. The operating loss would have been greater, but the airline received support in the form of the government's Regional Airlines Financial Assistance grant.
Passenger numbers for Rex – which mainly operates regional routes with Saab 340s – fell 71.2%, and revenue fell 70.5% to $42.8 million.
Still, aeromedical work, charters and a $3 million reduction in depreciation charges helped Rex achieve a net profit of A$9.9 million, up from A$6.9 million a year earlier.
"The Covid pandemic has completely devastated every passenger airline and has been the most significant set-back the global airline industry has ever experienced in its history," says company chairman Lim Kim Hai.
"Rex would have been obliged to shut down over 90% of its network if not for various federal and state governments assistance programmes. This assistance has allowed all regional carriers to continue operations albeit on a greatly reduced scale."
He adds, however, that conditions will remain tough in the second half, and that vaccinations won't aren't likely to have an impact in the 2021 financial year.
"Should this eventuate, then the expected cessation of all government assistance packages in the final quarter of this financial year will mean that the group is expected to incur significant losses in that period."
As for the airline's domestic 737 operations, these are not expected to be profitable in the 2021 financial year, but could break even in the company's 2022 financial year.