Ambitious Saudi Arabian start-up Riyadh Air is likely to announce a number of key airline partnerships ahead of its planned launch in 2025.
Details of the Riyadh-based new national carrier were first disclosed six months ago, including a commitment for up to 72 Boeing 787s. The carrier, under the leadership of former Etihad Airways chief executive Tony Douglas, has since unveiled its livery – showcased on a Dreamliner at June's Paris air show – and flagged plans for a major narrowbody order.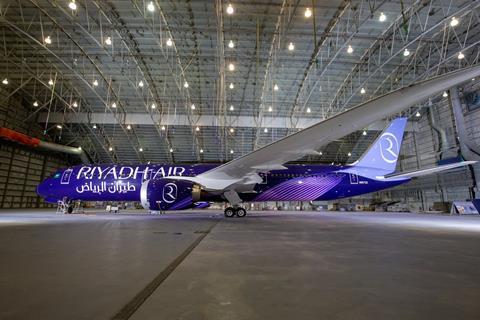 Speaking to FlightGlobal in Lisbon on 27 September at the World Aviation Festival, Douglas – who has of late been presenting the Riyadh Air project in a number of countries, including China – said that partnerships would be a part of its plans.
"We are start-up, a very big start-up, but nevertheless a start-up. So by definition, on day one we only have one aircraft. We can't even put a city pair on until we have three [aircraft]," he says.
"So there is a journey that classically goes from infancy, through adolescence into maturity. And for us to get the level of connectivity that the Kingdom deserves, requires and demands; and for us to serve it in a way in which we can connect our citizens with the world, and the world with Saudi Arabia, we see that a series of very strategic and deep partnerships would be our primary route."
Douglas suggests the airline will focus on quality of partnership rather than numbers, and that these will be "the ones that really matter in key geographies".
He says there has been strong interest from potential partners in working with Riyadh Air, which has ambitions to have a network of more than 100 destinations by the end of this decade.