Low Covid-19 vaccination rates in Africa mean inoculation cannot be a prerequisite for international travel, in the view of RwandAir chief executive Yvonne Makolo.
Speaking during a CAPA Live event on 14 July, Makolo said: "In the US and Europe…. we're hearing a lot of calls to allow only people who are vaccinated [to travel]. This is a concern for us, because if you have almost the entire African continent not vaccinated, how are people going to travel?"
She points out that across the African continent, less than 2% of the population has received at least one vaccine dose so far, which is "very worrying… in terms of the full restart of the industry" in the region.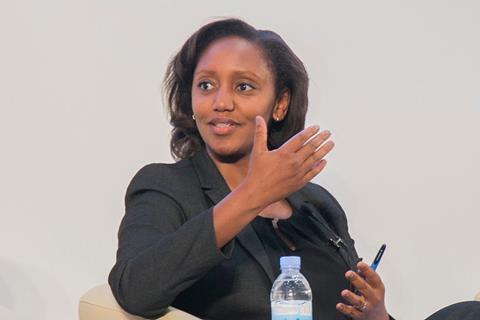 "Given the issue of vaccine inequity, a lot of African countries have not been able to get the vaccines they had hoped for, including Rwanda," Makolo explains.
With that in mind, "we really want to see a situation where we allow people to travel as long as they have a negative Covid [test], and the ones who are vaccinated can be allowed to travel freely [as well]", Makolo says.
Having both options is the "only way we can have some certainty" in terms of the industry restart, she suggests.
The price of Covid-19 tests needs to be addressed, Makolo adds, while digital health passports are "complex", but "given the fact we'll have to live with Covid for a while, I think it's the only way to go".
Helpfully, given the lack of access to vaccines in the region, Makolo says "a lot of African countries have managed to contain the pandemic pretty well… including Rwanda", which means RwandAir is currently able to serve most of its pre-pandemic destinations.
Speaking during the same event, the secretary general of the African Airlines Association (AFRAA), Abderahmane Berthe, noted that the World Health Organization has set targets for vaccinations to reach 10% of Africans by September, 40% by December and 70% by mid-2022, as part of a global effort.
"Governments need to speed up the rollout of vaccines across the continent," Berthe says. "It's very important that no country is left behind."
Meanwhile, of Qatar Airways' plan to take a 49% stake in RwandAir, Makolo says the process as been "slowed down a bit because of the pandemic", but that it remains on track.