Irish carrier Ryanair has called on its home country's government to drop quarantine requirements for inbound travellers from the UK and the European Union.
Citing positive data on hospitalisations and vaccination levels in Ireland, and on inoculation programmes in the UK and the EU, the low-cost operator suggests 14-day quarantine requirements should cease by the end of May, including the "unique and failed hotel quarantine" programme.
Ryanair's frustration stems from Ireland's strict entry requirements, with home or hotel quarantine enforced for nearly all arrivals, depending on the categorisation of their origin country. Travellers from some destinations are able to end quarantine early, however, if they meet certain Covid-19 testing requirements.
"Thanks to the success of the UK's vaccine program, there is no justification for requiring visitors to Ireland from the UK… to quarantine," says Eddie Wilson, chief executive of Ryanair's mainline operation. "The vast majority of the UK adult population have now received their first dose vaccination, and therefore pose no threat or risk to Ireland's hospitals or health service.
"Equally, as Ireland and other EU countries' vaccine programmes exceed 33%… and with most of Europe on track to vaccinate 80% of its adult population with first dose vaccines by the end of June, there is no need or requirement for Ireland to maintain travel restrictions on UK and Intra-EU air travel from the end of May onwards."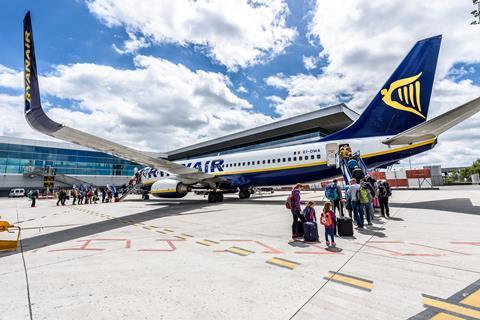 For its part, the Irish government has said that it will adopt the EU's 'Digital Green Certificate' scheme, which will allow fully vaccinated travellers to cross the bloc's internal and external borders, but the timescale for implementation is unclear.
It has also suggested that it might soon allow restriction-free travel between Ireland and the UK, which is no longer an EU member state and does not impose restrictions on travellers from Ireland.
Ryanair – whose home base is complemented by large operations in the UK and elsewhere in Europe – is not the only Irish carrier to note the negative impact of government-imposed curbs on travel.
Earlier in May, IAG said Aer Lingus was the "most challenged" carrier in its group in terms of its financial performance, because Ireland "has a uniquely stringent set of travel restrictions".