Europe's biggest low-cost carrier Ryanair 'cautiously believes' it can be close to breakeven for the financial year ahead after posting a record loss of €815 million ($990 million) for the pandemic-hit year to March 2021.
Revenues collapsed to just €1.64 billion from €8.49 billion in the previous year, in line with an 81% fall in passenger numbers to 27.5 million for its 2021 financial year amid lockdowns and travel restrictions across Europe.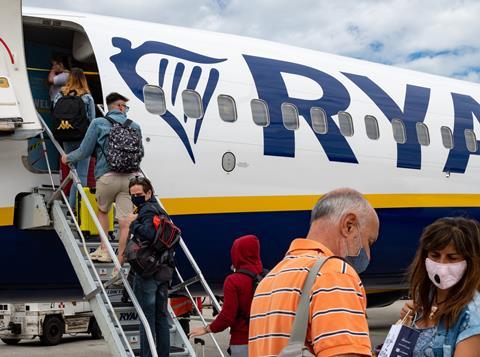 Ryanair sees travel disruption continuing in the first quarter of the new financial year and expects to carry only between five and six million passengers for the three months ending 30 June 2021.
"With a very close-in booking curve, visibility for the remainder of FY22 is close to zero, although bookings have jumped significantly from a very low base since week one of April. It is therefore impossible to provide meaningful FY22 guidance at this time," it says.
However it reiterates recent guidance that it expects full-year traffic levels to be at the lower end of its 80 million to 120 million passenger guided range.
"We also (cautiously) believe that the likely outcome for FY22 is currently close to breakeven – assuming that a successful rollout of vaccines this summer allows a timely easing of European government travel restrictions on intra-European traffic in time for the peak travel period of July/August/September," it says.
The loss of €815 million compares with a profit of just over €1 billion the previous year. The figures exclude fuel hedging losses of €200 million and €335 million respectively. The loss ends a full-year net profits run which dates back to a fuel-hedging hit 2008/09.
Longer term, Ryanair is aiming for a full rebound in passenger levels to 150 million for the year ending March 2023. The airline carried 149 million passenger in the year to March 2020 before the pandemic hit.
Further ahead, it is projecting that it will pass the 200 million passenger mark in five years, fuelled by lower fleet costs from the arrival of its Boeing 737 Max aircraft.
"This will enable the group to fund lower fares and capitalise on the many growth and market share opportunities that are now available across Europe, especially where competitor airlines have substantially cut capacity or failed," it says. "The group expects to benefit from a strong rebound of pent up travel demand through the second half of 2021, and looks forward to returning to pre-Covid growth in summer 2022."
Ryanair had been poised to take delivery of its first Max aircraft prior to the type's grounding in March 2019. It today says it hopes to take delivery in late May of its first 737 Max, of which it now has 210 on order.