Ryanair is continuing to guide for a big jump in passenger demand over the next 12 months, although the low-cost carrier's chief executive acknowledges the downside risks created by the Russian invasion of Ukraine.
"Normally we get the war followed by the pestilence; this time we've had the pestilence of the past two years followed by the war," Michael O'Leary said during a press briefing today, referencing the airline industry's transition from the devastating Covid-19 crisis to the potentially far-reaching consequences of war in Europe.
Looking across the rest of 2022 and beyond, Ryanair continues to forecast that its passenger numbers will reach 165 million in its fiscal year ending 31 March 2023 – a figure significantly ahead of its pre-Covid traffic.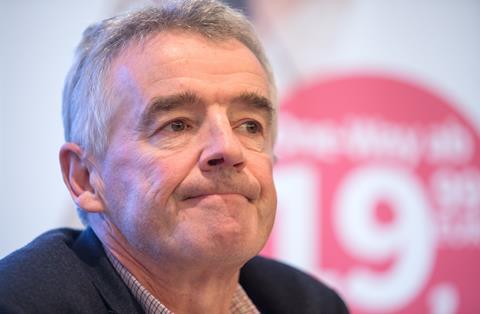 That comes, O'Leary explains, with the Covid-19 crisis firmly moving into the rear-view mirror. But he also acknowledges the potential impact on demand of the developing security situation in Europe, saying that he has "no great ability to see into the future".
Nevertheless, his current assumption is that there will not be "a dramatic impact on bookings" – if the conflict in Ukraine "doesn't escalate and spread elsewhere".
Ryanair's bookings dropped by about 20% week-on-week on 24 February as Russia's invasion of Ukraine began, O'Leary explains, then recovered to about 10% down by the weekend of 26-27 February.
"Unless something untoward happens, I'd expect it to be back to normal by next week," he states.
As that plays out, O'Leary continues to believe that short-haul fares will be low by historical standards in the coming months, before rising as the year progresses and eventually exceeding pre-Covid levels later in the summer. That shift would be driven by a lack of capacity in Europe – both due to Covid-19 impacts on fleets and the pre-crisis failures of some carriers – meaning demand starts to outstrip supply.
Ryanair is partly serving that rising demand through a growing fleet of Boeing 737 Max 8-200 jets, O'Leary says. The carrier expects to have 65 of the type in service for summer 2022, having only taken delivery of its first example in September last year.
Meanwhile, regarding an immediate challenge created by the situation in Ukraine, a "steep and severe" rise in fuel costs is not a big concern for Ryanair at this stage, O'Leary continues.
"We are largely insulated from that for the next 12 months," he says. "We are 80% hedged out to March 2023 at about $63/barrel."
Brent crude was trading at around $110/barrel on 2 March – a seven-year high.
The 20% of unhedged fuel will "probably cost us another €50 million [$55 million] over the next 12 months, which is not a huge amount of money overall… but it certainly makes the post-Covid recovery much more difficult", O'Leary says.
He expects the financial challenges of higher fuel costs to be greater for airlines with lower levels of hedging in place, including rivals EasyJet and Wizz Air.
Ryanair's attempts to hedge further out were brought to an abrupt stop when Russia's invasions of Ukraine began, O'Leary notes.
"We have 9% of our summer 2023 fuel hedged at $74/barrel," he says. "By lunchtime on Thursday [24 February] the hedging bids for next summer had gone from $74/barrel to $95/barrel, so we have stopped for the moment."
In Ukraine itself, Ryanair was the biggest carrier on international services before the conflict began, although those flights made up a small proportion of its pan-European network. O'Leary is keen to stress, however, that Ryanair wants to return to the country as quickly as possible.
"We do want to see the Ukrainians succeed," he says. "We will be the first airline to return to fly to Ukraine when it is safe to do so."