The airline industry would benefit from the UK's parliamentary election on 12 December producing a "clear majority" regarding a way forward on Brexit, in the view of Ryanair group chief executive Michael O'Leary.
"I think what everybody in the industry and even in the UK wants is to just f****** get on with it," O'Leary tells FlightGlobal on 10 December in Brussels. "Let's have a majority in favour of something or other so we at least we see progress and it [the UK's implementation of Brexit, or otherwise] gets done."
O'Leary, who has previously described Brexit as a "stupid, idiotic plan", states that "it would be devastating for the UK [to have] a kind of hung parliament, indecision and another couple of years of dither and f****** delay".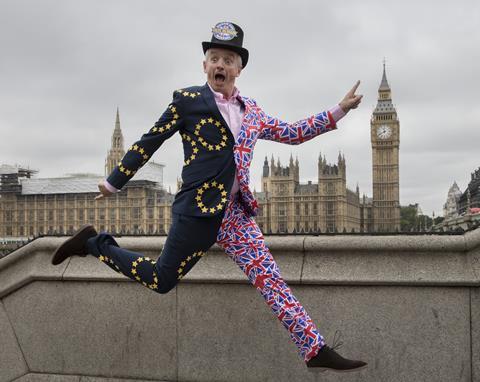 Despite his reservations about Brexit as a concept, he explains that Ryanair "can manage anything as long as there is some degree of certainty".
Referring to polling ahead of election day, which has consistently given incumbent prime minister Boris Johnson's Conservative Party a lead of several percentage points, the Ryanair chief notes that "it looks like Johnson is going to win maybe a 30-40 seat majority", adding: "I hope it's better than that… At least give him a 50-60 seat majority, then you don't have to listen to the lunatics in the f****** ERG [the European Research Group of Conservative Party politicians who have, in some cases, advocated a 'no-deal' Brexit and voted against their own government's withdrawal agreement]."
On Johnson himself, O'Leary states: "The challenge is with Boris that even with a majority, you might not have certainty anyway, but he is what he is, we'll take it."
And of Johnson's main rival, Jeremy Corbyn, leader of Labour Party, O'Leary continues: "I would take a majority in favour of that t*** Corbyn as long as there's a f****** majority in favour of something."
Regarding the concept of a "no deal" Brexit, where the UK would leave the EU with no agreement on its continuing relationship with the bloc, O'Leary says there is "no possibility in my mind" that such an outcome would happen.
"No-deal Brexit is undeliverable," he states, suggesting that there "wouldn't be food on the f****** supermarket shelves within something like two days" of such a scenario taking effect.
"So there's going to be some kind of withdrawal agreement, whatever way, shape or form it is, and then the problem is you get into the five, six, seven years of tortuous f****** trade talks that will never end. And maybe it would never end anyway.
"Frankly at this point, I think like everyone else in Europe and everyone else in Britain, I don't give a s***, just make a decision and do something."
The UK general election takes place on 12 December and the outcome is expected to become clear as constituency results are announced in the early hours of 13 December.
Irish carrier Ryanair's largest base is in the UK at London Stansted airport.