The UK will be in breach of competition and state-aid laws unless it extends the exemption of air passenger duty it has promised Flybe to the wider industry, Ryanair's Michael O'Leary has argued.
In a letter to UK chancellor Sajid Javid, the airline demands that should Flybe be granted an exemption from APD, this must also apply to Ryanair, EasyJet and British Airways.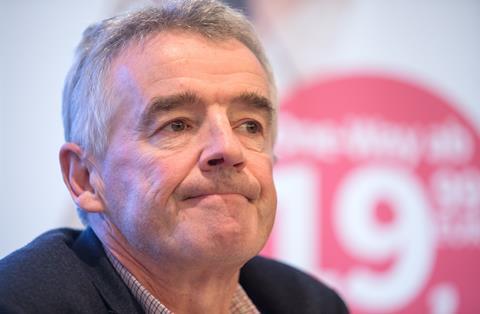 Ryanair blames Flybe's financial troubles on mismanagement and an unsustainable business model which has resulted in repeated crises at the regional carrier over the past two decades. Other airlines are able to operate UK domestic routes profitably, Ryanair asserts.
O'Leary contends that "this government bailout of the billionaire-owned Flybe is in breach of both competition and state-aid laws".
Rejecting the suggestion from UK business secretary Andrea Leadsom that Flybe is a viable business, he writes: "The reason why Flybe isn't viable is because it cannot compete with lower-fare services from UK regional airports on domestic and EU routes provided by Ryanair, EasyJet, BA and others; and It cannot compete with lower-cost road and rail alternatives on many smaller UK domestic routes."
He continues "If Flybe fails… then Ryanair, EasyJet, BA and others will step in and provide lower-fare flights from the UK regional airports, as we already have to make up for the recent failure of Thomas Cook Airways."
The government has committed itself to providing Flybe with loan of around £100 million ($130 million) and/or a deferral of £106 million in APD, as well as a review of taxes on the UK domestic aviation sector.
IAG has already filed a complaint to the European Union alleging that the rescue contravenes state-aid rules, while EasyJet has made the case that taxpayer cash should not be used to bail out individual companies.
Campaigners have also argued that lowering APD will make it harder for the government to achieve its climate commitments, pointing out that many countries are increasing domestic aviation taxes to encourage more environmentally friendly forms of travel.