Fares will be slashed across Europe once coronavirus travel restrictions are lifted as airlines seek to tempt passengers back on board, Ryanair believes.
"Seat sales will be necessary to stimulate demand," said Ryanair Group chief executive Michael O'Leary during the company's annual results presentation for the year to end-March.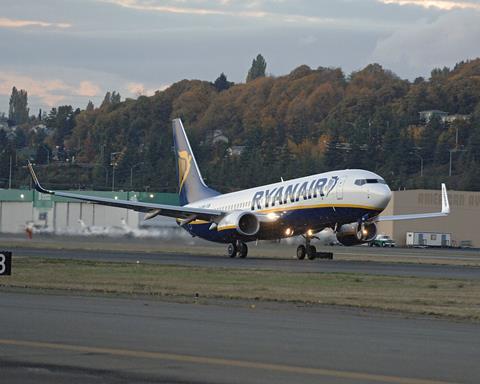 He expects that, buoyed by government financial assistance, some airlines will sell seats at a loss in order to attract passengers and hold market share. "Wherever there is below-cost selling, we will price below the below-cost selling," he vows, describing the recipients of financial assistance as "state-aid-junkie flag-carriers".
Ryanair chief financial officer Neil Sorahan adds: "It will be a great opportunity for customers. As we are the lowest-cost operator, we will have the lowest fares in the market."
The airline will be hoping that its measures to prevent the spread of disease on board will also encourage passengers back on board. Its strategy hinges on the use of face masks by passengers and crew, but it stresses that it will not be leaving the middle seat free on its aircraft.
It also highlights the use of cashless sales on board and temperature checks. Social distancing will meanwhile be encouraged in airports. "Onboard masks will be the key criteria," notes Sorahan.
Encouraged by these measures, demand should return "pretty quickly", Ryanair foresees. It hopes to operate 40% of its schedule in July and 60% in August, although its full-year passenger numbers will be 80 million "at best" in its 2020-21 financial year, a sharp fall from the 149 million it carried in 2019-20.
Confidence that it can compete in any price war stems from its relatively strong financial position. Having received £600 million ($717 million) in assistance from the UK government under the Covid Corporate Financing Facility, Ryanair now has €4.1 billion ($4.4 billion) in cash.
It also owns 90% of its fleet, and 75% of those aircraft – some 330 Boeing 737s – are unencumbered. Ryanair has received several offers for sale-and-leaseback deals that could unlock further liquidity, but "we don't need the cash at the moment", says O'Leary.
The carrier is even in negotiations to expand in airports where other airlines have either collapsed or retrenched, although in other, loss-making locations, notably the UK, Spain and Germany, it is likely to pull back.
Its Lauda unit is also continuing to struggle amid fierce competition from Lufthansa Group's Austrian Airlines subsidiary in Vienna. It is a situation with which O'Leary is clearly losing patience. "Lauda is facing an existential crisis," he says. "The only way Lauda can survive is a deep restructuring of the Vienna operation."
Ryanair has cancelled eight aircraft for Lauda, but warns that the base will be closed entirely unless unions agree to changed that reduce pay and improve productivity.