Ryanair is to launch a share issue aimed at raising gross proceeds of around €400 million ($475 million) to help de-risk the group's debt repayments and better position it to capitalise on fresh growth opportunities in the market
The low-cost carrier is to place new ordinary shares to institutional investors and certain others, in a placing that will be launched immediately through an accelerated bookbuild.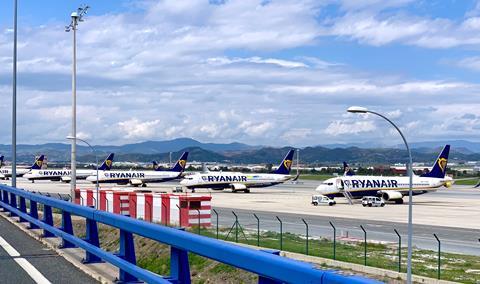 In detailing its reasons for the new issue, Ryanair says the current challenging environment is likely to result in long-term impacts for the sector, which it expects will create opportunities for it to grow its network and fleet, and to take advantage of lower airport and aircraft cost opportunities.
"The placing is expected to help better position the group to move quickly to capitalise on such opportunities should they arise," it says.
"As we look beyond the next year, we expect that there will be significant growth opportunities for Ryanair's low-cost model as competitors shrink, fail or are acquired by government-bailed-out carriers."
Ryanair adds the placing should also "significantly de-risk" the group's debt repayments over the next 12 months. The airline says it is well positioned with over €3.9 billion in cash at 30 June 2020 and 333 unencumbered Boeing 737s with a book value of approximately €7 billion.
"The net proceeds from the placing are intended to further enhance Ryanair's liquidity position and underpin its BBB investment-grade rating, potentially leading to finance cost savings."
It adds that, subject to market conditions, the group expects to access the bond markets in due course, and the enhanced liquidity will likely "optimise that issuance".