Ryanair expects a gradual recovery in the spring to be followed by a "substantial" return to flying through the summer, as desperate northern Europeans rush back to holiday destinations.
Noting that the carrier is "already seeing a rise in bookings into the period", group chief executive Michael O'Leary said during the carrier's third-quarter results call on 1 February that in the next fiscal year the carrier would carry around 120 million passengers, taking its performance back to the levels of 2016/17.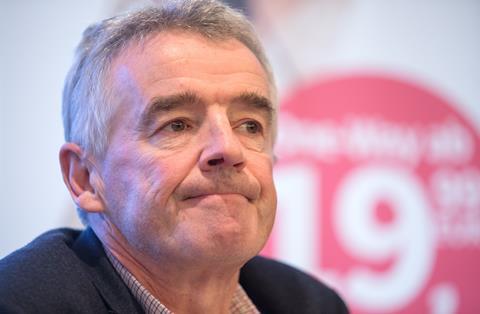 But his confidence masks a hugely challenging period for the carrier, which has seen passenger numbers deteriorate significantly from its expectations of as recently as November.
Then, it projected it would carry 38 million passengers over its fiscal year to April, whereas now O'Leary foresees 26-30 million, and just 2-2.5 million in the three months to end-March. In comparison, in its 2019/2020 fiscal year the airline carried 149 million passengers.
For its full financial year, the carrier has pencilled in a loss of €850-950 million ($1.3-1.5 billion).
Ryanair has been hit hard by stricter lockdown measures and the effective cancelling of its normally lucrative Christmas period. Although it does foresee a recovery in the next few months, O'Leary notes that this is coming from a "very low base", leaving the carrier "materially behind where we would normally be at this time of the year for summer bookings".
"If you're asking what our capacity recovery will be like next [fiscal] year, the answer is: we don't know," he said in response to an question. "These are very movable figures but we are looking at maybe something like 20-25% in Q1, it could be between 50-75% in Q2… The September-March quarters, 3 and 4: probably something like 75 to maybe 90 and possibly 100%.
"You'll move to the higher numbers the faster [and] the more successful the vaccine rollout is. You'll move to the lower numbers if there are delays."
Evidence from the relaxing of restrictions at earlier points in the pandemic – for example when the UK added the Canary Islands to the safe travel list, leading to an immediate surge in bookings – has encouraged optimism at the carrier.
Longer term, the group is eyeing 200 million annual passengers by 2026.
Despite the setbacks in market conditions, O'Leary is bullish on the carrier's position within the wider industry and its opportunity to prosper when a return to near-normal is possible.
He predicts that Ryanair will emerge from the crisis with "materially lower costs going forward", and with "the gap between us and our competitors materially wider".
Partly, this is because of the imminent arrival of Boeing 737 Max jets, which will reduce fuel burn by 14% versus Ryanair's current fleet. Lower fuel bills because of the collapse in oil prices will also contribute to a healthier bottom line.
But also it is because Ryanair has used the pandemic to refashion its cost base, slashing labour costs and renegotiating airport fees where possible.
Its healthy financial position is both a reflection of its strength and an example of its advantage going forward, O'Leary asserts, as the carrier owns its fleet, 80% of which is unencumbered. O'Leary expects that EasyJet's lower share of unencumbered aircraft will give the UK budget carrier higher costs in the future.
O'Leary also aims a dig at central European low-cost giant Wizz Air, which, he suggests, with reference to its operations in Norway, "can't even compete with Norwegian, which is a pretty low bar".
Ryanair expects its bounceback to be strengthened by the large number of airport slots that have become available from the collapses of Flybe, Thomas Cook and Air Berlin. "There is no airport slot restrictions to our growth and expansion over the next year or two," says O'Leary, adding that even if Ryanair were to receive all 202 of its on-order Boeing 737 Max jets, "we could happily allocate them."
He foresees a possible further boost from troubles in the long-haul market, which is set to recover at a slower pace than short-haul.
His reasoning is that not only might this hurt its legacy competitors, for which a large share of traffic either feeds into or from long-haul flights, but also, some passengers who would have booked trips further afield will stay in Europe instead.
Should benign conditions fail to arrive, O'Leary remains confident in his carrier's ability to weather the storm, given its cash position. "We have numerous sources of financing available to us," he says, noting that Ryanair is "inundated with people wanting to lend us money, either secured or unsecured".
He adds: "There's nothing out there that we can see that would lead us to raise additional cash this year, but if we need to, we can, and we will."