Ryanair is cutting 80% of its scheduled flights and could ground its entire fleet in response to the coronavirus.
From midnight on 18 March until midnight 24 March the group will shut down operations on four-fifths of its routes. It expects that after 24 March "most if not all Ryanair Group flights will be grounded", with the possible exception of a few key routes, mostly between the UK and Ireland.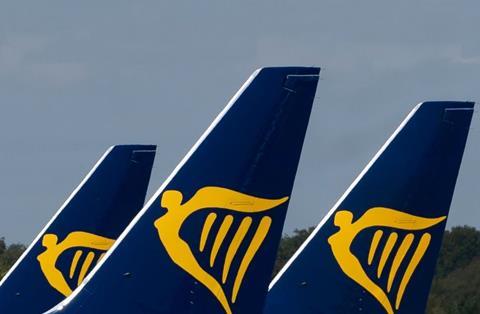 "Over the past few days, the spread of the Covid-19 virus has led most EU governments to impose severe travel bans and restrictions, which have had a negative impact on the schedules of all Ryanair airlines, causing widespread cancellations and travel disruptions across the network," the group notes.
Cirium data shows that in February 2020 Ryanair had 13,300 weekly return flights scheduled, providing a capacity of over 2.5 million seats.
Before the sudden escalation of the health crisis in Europe, Ryanair chief executive Michael O'Leary had on 3 March said he expected bookings would be soft for around three weeks and "then people will get bored of the coronavirus", allowing a return to normal demand in May/June.