African airlines must work together to "change the face of aviation" if the region's industry is to be competitive after the Covid-19 pandemic, in the view of Kenya Airways Group chief executive Allan Kilavuka.
Speaking during a CAPA Live event on 13 October, Kilavuka said that if the African aviation industry continues in its "fragmented" state, the sector "will be in a lot of trouble".
The key, he suggests, is to "collaborate and make the airlines more scalable, so that we can reduce the costs that we are incurring" – whether that be through consolidation or other types of formal partnership.
"It is incumbent on us, for our own benefit, to see how we can work together much better and make the airlines a lot more viable," Kilavuka states. "[That would] give a lot more choice to our customers, improve our products and efficiencies, reduce our unit costs, increase our revenue streams and so on."
Kenya Airways' recently announced tie-up with South African Airways is an example of that process playing out, he explains.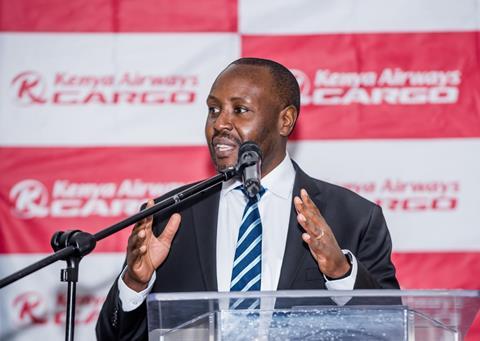 When it comes to working with SAA, "the long-term objective of this partnership is to form a pan-African airline group that should be able to compete with other large carriers as well", he states.
"This is going to be one of the most fundamental developments in African aviation for a long time to come," Kilavuka suggests. "If we do it successfully, I think it will change the face of aviation."
Indeed, he notes that the need for airlines to work together is particularly acute in Africa, where many operators were struggling going into the Covid-19 crisis and connectivity has always been patchy.
At the same time, the big Middle Eastern carriers, for example, have been making inroads into the African markets in recent months.
To meet those challenges, the tie-up with SAA is the first step, Kilavuka says.
"It's not an exclusive club – we can start up and we'll see whether other people want to join," he states, adding that the aim is to "cover the African continent very effectively".
The benefits of such developments are not just for the region's airlines, Kilavuka believes, noting that stronger local operators "will support the economy and socio-economic aspects".
He highlights Kenya Airways' recent work with Congo Airways as another important – if different in its formation – partnership, where they aim is to "mutually support them so we can connect central [Africa] to the east, west and south".
Calling the prospect of working with other airlines in the region "exciting", he quotes a saying: "If you want to go far, you need to work together with someone else; if you want to go quickly, you work alone."
When it comes to Kenya Airways – which is waiting for the government to complete the process under which the carrier will be nationalised – "we want to go far", says Kilavuka.