The airline industry is "not out of the woods yet", SAS chief executive Anko van der Werff has cautioned, as companies face the prospect of managing huge debt burdens built-up through Covid-19.
During a World Routes online conference, van der Werff said the crisis "doesn't end when the planes are full again; it's now only the second phase, which is the more important phase, which I think is about to begin".
He warns that "coming our way is a wall of debt" which will hit airlines in Europe particularly hard as these, he argues, have largely not restructured themselves as effectively as those in Latin America and the USA.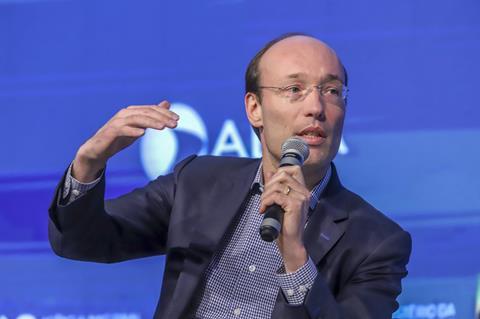 Airlines, he suggests, have taken rapid decisions based on the need to ensure solvency instead of keeping one eye on the longer term.
"In my view, a lot of these airlines are lagging behind. [During the pandemic] it was about how do we survive. If you don't think [about the] future, then you might take some wrong decisions."
This applies to SAS as well as other carriers: van der Werff says capex was reduced too much in the heat of the pandemic, hindering progress in the bounceback. He qualifies this by noting that, with the intensity and duration of the pandemic unknown, it was prudent at the time to aim for maximum liquidity.
Tougher times could also aid the trend towards greater consolidation in Europe. Van der Werff adds that much of the state-aid financing airlines took on was conditional on not being used for M&A activity, which has largely held back consolidation up to now.
But this could change as this financing is repaid, and would, he believes, act to create a healthier industry on the continent and improve connectivity.
Assessing the current state of the market, van der Werff comments that although current conditions are strong, with bookings to the USA ahead of 2019 as it prepares to reopen to European travellers, it remains too early to assess the prospects for next summer.
Although it could be "an absolute stunner", the direction of the pandemic remains uncertain and a heavy winter flu season risks hurting demand in the coming months. "For the summer I do think it's going to be significantly stronger than 2021, but will it go all out? That still has to be seen."
He also restates his airline's position that there has been a "structural shift" against business travel, with sales lagging behind other areas. "We will have to pivot towards leisure travel because that's where the demand is going to be."