Singapore Airlines (SIA) Group passenger capacity continues to rise as 2020 draws to a close, with the airline basing a fuel hedging metric on the assumption it will operate nearly 50% of pre-pandemic capacity by the end of 2021.
In December 2020, the Group expects to operate 16% of pre-coronavirus capacity, according to a management presentation following the group's results for the first half of its FY20/21 financial results to 30 September.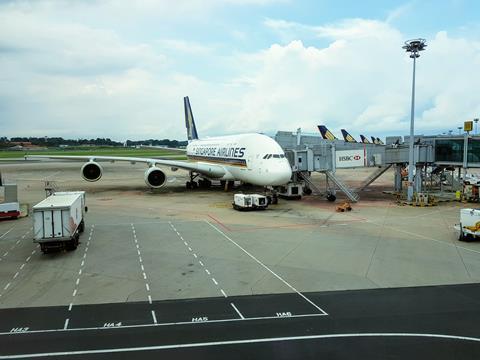 While the December estimate is still a fraction of pre-coronavirus capacity, this marks an improvement from the 13% of pre-coronavirus capacity the airline plans to deploy this month, and far above capacity in April and May, when just 3% of pre-covid capacity was deployed.
Also by December 2020, the airline hopes to serve 37% of its pre-coronavirus city links, and offer greater frequencies to major cities.
The first-half results to 30 September, released Friday, were widely anticipated as they fully encompass the impact of the coronavirus pandemic on SIA.
For the six-month period, SIA suffered a net loss of S$3.5 billion ($2.6 billion), of which S$1.33 billion was an impairment charge against 26 older aircraft retired prematurely. The group's operating loss was S$1.9 billion, with revenue diving 80% to S$1.6 billion.
During the first half, passenger capacity at SIA fell 92.9% from a year earlier. Regional unit Silkair saw capacity decline 99%, and low-cost unit Scoot 97%. Passengers carried fell around 99%.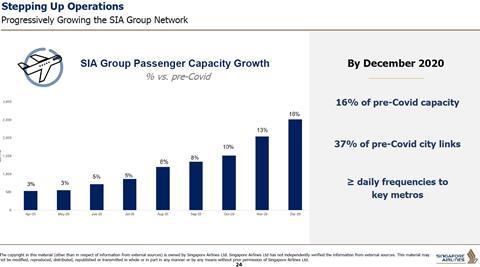 Longer term, the carrier is cautiously optimistic about deploying more capacity in 2021. According to SIA senior vice president finance Stephen Barnes, the airline is basing assumptions about fuel hedging effectiveness next year on reaching "close to 50%" of pre-covid capacity by the end of calendar 2021. Barnes made the remarks in response to an analyst's question.
Referencing Barnes's comment on capacity, chief executive Goh Choon Phong was quick to stress that long-term capacity planning is very challenging in the current environment.
"In order to arrive at the number for fuel hedging effectiveness, we need to have some underlying assumptions," he says. "But that's not to say that that's the way we will operate because of how dynamic the situation is out there. You can be rest assured that we will seek opportunities, of course, but we've got to be very nimble."
Goh adds that the SIA Group continues to focus on liquidity, having raised about S$11.3 billion from the start of the fiscal year on 1 April. In addition, it has the option to raise an additional S$6.2 billion through convertible bonds.
The airline is also in the "advanced stages" of possible sale & leasebacks against its fleet.
"We are confident that we have very strong liquidity, and believe that we have one of the strongest, if not the strongest, liquidity positions among airlines," he adds.
Moreover, the airline has worked to reduce costs, including the "painful exercise" in September to cut 4,300 positions, and release 2,000 staff.
In regard to the revenue opportunities, he notes that Singapore has been proactive in opening up "green lanes" and unilateral border openings for non-essential travel. The pending Singapore-Hong Kong travel bubble will serve as a pilot example of how general travel can be opened up safely.
He believes that advances in coronavirus testing technology, as well as protocols governing their use with travellers, will increasingly facilitate a resumption in air travel.