Singapore Airlines Group swung back to profitability in its first-quarter results, helped by strong travel demand that the airline group foresees will continue through the rest of the year.
For the three months to 30 June, the group – comprising mainline carrier SIA and low-cost unit Scoot – posted an operating profit of S$556 million ($402 million), reversing the S$274 million operating loss in the same period last year.
SIA Group adds that this is its second-highest quarterly operating profit in its history, with the highest recorded in the October-December quarter of 2007.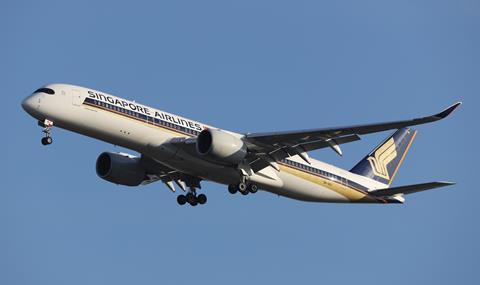 Total revenue for the quarter tripled year on year to S$3.9 billion, helped by a two-fold increase in passenger travel revenue.
SIA and Scoot carried 5.1 million passengers in the quarter, more than twice the number seen a year ago and 14 times more than in the same period of 2020.
However, cargo flown revenue recorded a 1.5% dip to S$1.1 billion, as air freight demand declined on parts of China going into lockdown during the period.
Meanwhile, costs for the period increased two-fold to $3.4 billion, with SIA Group warning that rising fuel prices are pushing up its operating expenditure. On a quarter-to-quarter to basis, the airline group saw costs increase 32%, with fuel-related expenses seeing a 71% increase.
SIA Group posted a net profit of S$370 million, a substantial improvement over last year's S$409 million net loss. It attributes the better performance to an improved operating performance, as well as the absence of impairment charges.
In its outlook, SIA says forward sales through October are "buoyant", though it has flagged inflationary pressures among its imminent challenges.
"Interest rate hikes and slowing economic growth in many countries around the world, including the SIA Group's key markets, are risk factors to passenger travel recovery and air cargo demand which we are monitoring closely," it states.
On cargo, SIA Group expects yields to remain higher than pre-pandemic levels in the near to medium term, as air cargo capacity remains tight on key trade lanes to and from Asia, particularly between Europe and Asia.