US regional carrier Silver Airways has struck a last-minute deal to avoid eviction from its base at South Florida's Fort Lauderdale-Hollywood international airport due to owing more than $1.4 million in back rent and late fees.
But it remains possible that the airline – which flies passengers with ATR 72- and 42-600s in the Southeastern USA and the Caribbean – will lose its main operational base if it continues to default on payments.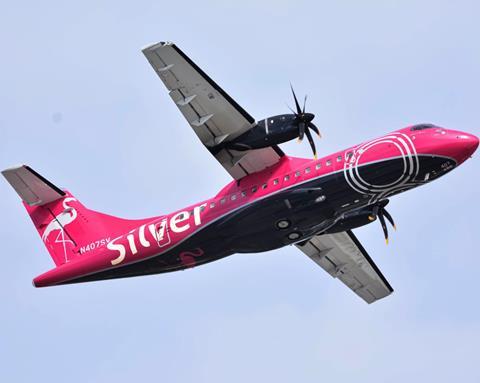 Steve Rossum, Silver's chief executive, told the Broward County Commission on 18 April that "Fort Lauderdale is our most important operating hub" and said that more than 300 of the airline's 883 employees live in the area.
"Silver is important to this community, and we need to do a better job to rebuild trust with the commission and the Broward County Airport Authority… for Silver to reach its full potential," he acknowledges. "We think it is vitally important. I am actually disappointed in my behaviour…. and that we did not pay our bills in accordance with the terms."
"That is not how we enter business relationships," Rossum adds.
The commission had been set to consider on 18 April whether to terminate Silver's lease, having been provided with a series of default notices outlining unpaid terminal lease obligations toward its operations at Fort Lauderdale.
At one point in early 2022, Silver owed more than $1 million in "seriously delinquent" rent, gate fees, landing fees and late fees, according to the county. The airline's total outstanding balance has since grown to about $1.4 million.
Efforts to reach a payment agreement were unsuccessful until late on the evening of 17 April – the eve of the commission's meeting – when the regional airline and Broward County reached a tentative forbearance agreement.
The deal includes a stipulation that grants the county administrator authority to terminate the agreement if payments are not met.
"We have before you an agreement that we believe really serves the community and our airport's interests, and our county's best interests," says county administrator Monica Cepero. "We believe that it is fair. We are hopeful that… [Silver] remains current on its invoices, and this forebearance agreement is an important step."
"It is imperative that we treat all airlines equally so we would never jeopardize our FAA grant assurances," she adds.
Under the agreement, Silver is obligated to pay the county $200,000 immediately, with another $300,000 due 19 May – and a $100,000 replenishment of the airline's security deposit due the following month. The deal then calls for equal monthly installments from 18 August to 19 April 2024.
The nine-member Broward County commission voted unanimously to agree to the new payment agreement with Silver.