SkyTeam has confirmed that new Italian carrier ITA Airways will replace defunct national operator Alitalia in the global alliance.
ITA, which launched flights on 15 October after Alitalia ceased operations, had already indicated its intent to join SkyTeam.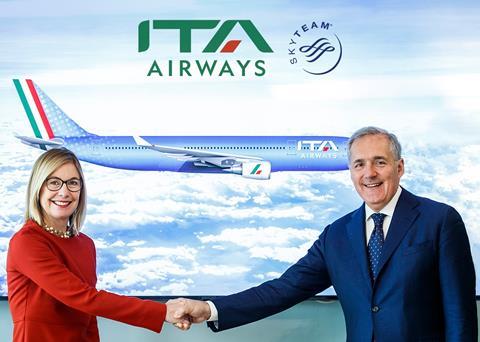 Alitalia was one of the earliest airline recruits to SkyTeam, joining the alliance in the summer of 2001, before calling time on operations earlier this year month. Alitalia had been in administration for more than four years amid continued financial challenges.
SkyTeam has now confirmed ITA will replace Alitalia in the alliance
SkyTeam chairman, Korean Air chief executive Walter Cho, says: "For more than 20 years, the Italian market has been a cornerstone of SkyTeam's European network and no other airline alliance connects Italy better to the world. We warmly welcome ITA Airways' decision to join our alliance and ensure continuity of service for the millions of customers who choose SkyTeam as their preferred alliance to Italy."
ITA AIrways executive chairman Alfredo Altavilla says: "Joining SkyTeam is a natural step, enabling us to continue to deliver a global network and seamless experience that customers flying to and from Italy expect. We look forward to close cooperation with our SkyTeam partners to support the start-up of our company, the Italian flag carrier."
The addition of ITA to SkyTeam will take the alliance back up to 19 members.