US regional carrier SkyWest Airlines has applied to the Department of Transportation (DOT) to operate 30-seat Bombardier CRJ200s to 25 destinations under a charter subsidiary.
The proposal would allow SkyWest to hire pilots with less aeronautical experience than required for commercial scheduled operations, thus taking some pressure off the pilot shortage that is plaguing most US carriers but hitting regional airlines hardest.
The commuter flights would operate under Federal Aviation Regulations Part 135 rules, which govern charter operations, as opposed to Part 121 rules, which govern scheduled commercial aviation operations.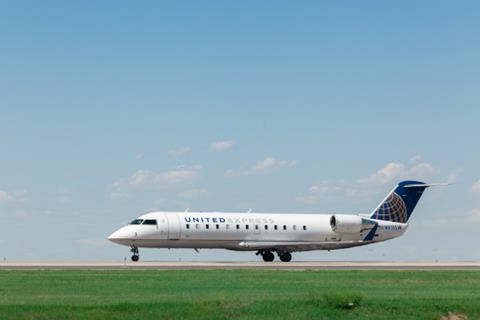 Under Part 135, most pilots need only 1,200h of flight time, as opposed to 1,500h for pilots flying under Part 121.
"SkyWest Charter (SWC)… intends to begin Part 135 operations in the fourth quarter of 2022, focusing on serving smaller, underserved markets with a 30-seat CRJ200," SkyWest writes in the proposal, dated 17 June. The service will help small communities "maintain their air connection to larger hubs and the broader air service network,"
The company's leasing subsidiary will lease the CRJ200 to SWC, the company says.
"These aircraft are ideally suited for the markets to be served by SWC and, in fact, have operated in the same and similar markets for many years," SkyWest adds.
The carrier plans to put the first aircraft into service in October 2022, with a five-month ramp-up phase during which three to four aircraft and four to five markets will be added every month through April 2023, the company says. Eventually, SkyWest expects the charter business will serve 25 markets with 18 aircraft.
"Each market will be served with two daily round trips to a larger city, with an average flight time of 1.25 block hours. SWC anticipates that each aircraft will fly an average of six segments and eight block hours per day," SkyWest says. "The flights will be conducted as on-demand operations under FAR Part 135."
Initially, the operation will connect Denver, Chicago and Houston – all United Airlines' hub cities – with smaller cities in the Midwest USA.
"The proposed flights will enable many underserved cities to have a frequency of service that provides them with a meaningful connection to the national transportation system. SWC also plans to have working arrangements with major airlines for the ease of the travelling public," SkyWest writes.
SkyWest has cancelled hundreds of flights since the beginning of the year, citing lack of qualified flight crew. The airline also told the DOT earlier this year it would stop flying to 29 cities it served under Essential Air Service (EAS) contracts with the US government. The new charter unit is a play to salvage routes to some of those markets.
"The list of proposed markets is not to the exclusion of others, and SWC will continue looking for opportunities to serve smaller communities," Skywest adds. "While SWC plans to provide EAS service, it also evaluating options for other arrangements with local communities and airports in the event it is not selected for EAS in certain markets."
US airlines have complained that high barriers to career entry are preventing the pilot supply from adequately satisfying demand as the industry rapidly recovers from the two-year Covid-19 pandemic.
Airlines and trade groups say core to the US pilot shortage is the so-called 1,500hr rule – an FAA requirement that pilots have 1,500h of total flight time before flying for airlines. The USA is unique in having such a high flight-time requirement.
Airlines have been scrambling to replace thousands of pilots who took early retirement packages and long-term leaves at the height of the global health crisis in 2020. Analysts have calculated that airlines need to hire more than 13,000 new pilots this year to satisfy demand.
According to consultancy Future and Active Pilot Advisors (FAPA), US airlines have hired 5,526 pilots as of the end of May. Delta Air Lines and United have hired more than 1,000 pilots each during that period, FAPA says on 21 June.