SkyWest Airlines says it lost $46 million in the fourth quarter of 2020, as reduced flight schedules and lower demand from its mainline airline partners continued to challenge the regional carrier.
The St. George, Utah-based airline posted a 2020 full-year loss of $9 million, compared to a 2019 profit of $340 million.
Operating revenue was $590 million, down 21% from $744 million in the same period in 2019, the airline tells analysts on its quarterly earnings call on 4 February. For the full year, the regional carrier reports $2.1 billion in revenue, down from $3 billion the year before.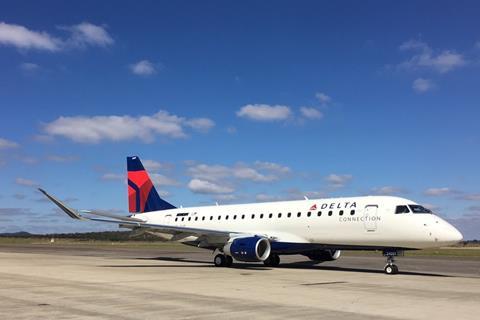 And airline executives expect more of the same as 2021 gets underway.
"It will be a choppy recovery period," says the company's chief executive Chip Childs. "Our ongoing agility will remain a critical component."
Yet he adds that he believes the airline is in a "strong position to play a key role" in the air transport industry's recovery.
The airline is somewhat insulated from the market downturn due to fixed contracts it has with its partners, American Airlines, Delta Air Lines, Alaska Airlines and United Airlines. SkyWest says that much of its fleet is currently flying at or near contract minimums.
The airline is still burning an average of about $250,000 per day, or $7 million per month, but executives reiterated their expectation that the airline could go back to cash-break-even by "mid-2021".
SkyWest took delivery of four new Embraer 175 regional jets for Atlanta-based Delta Air Lines during the final quarter of 2020, and one new MHIRJ CRJ900 is scheduled for delivery during the first quarter.
Under the contract with American, SkyWest says it expects to take another 25 CRJ700s into service throughout 2021, to add to the 65 of the type it had in operation at the end of 2020. It also expects 18 E175s for American to be delivered in the second half of 2021 and two to be delivered in 2022 as it continues to renew its fleet. Last quarter, executives said that by mid-2022, the airline will have 213 of the type in service, up from 156 at the end of 2019.
Altogether, the carrier's fleet at the end of 2020 comprised 452 aircraft in service, compared to 483 at the end of 2019, Skywest says.
CARGO CONVERSIONS
Earlier this week, the airline filed a request with the FAA to extend a temporary rule exemption that would allow it to reconfigure its CRJ900s to carry freight on the main deck when it is not carrying passengers.
The exemption was originally issued in July 2020 and initially valid for one year. In its filing, SkyWest asked for an extension until July 2022, citing potential investment costs of such an initiative.
That led to speculation that the airline was considering using some or all of its CRJ900 fleet to transport freight. Childs says, though, that the airline does not have any firm plans to do that at the moment, but it could be a viable option for the future.
"Our job is to try to find any business model that is going to work," he says. "We have no current plans in place but understand we have a very large fleet that we love flexibility to do multiple things with, and that's why we filed for the extension."
"It's a great door to open. There's nothing on the other side of that door right now, but we don't think it's a door that should ever close, it should be easy to go back and forth from cargo to passenger," he adds.
Skywest says it had 39 CRJ900s in scheduled service on 31 December.