SkyWest Airlines is "working with" charter operators that could take over some of the Essential Air Service (EAS) routes that it intends to cut owing to a shortage of flight deck personnel.
The operators, which the company did not name, are so-called "Part 135" carriers, which are certified to operate commercial, non-scheduled flights. The carrier could also supply some of its Bombardier CRJ200s for the purpose, says SkyWest chief executive Chip Childs.
Last month, SkyWest informed the Department of Transportation (DOT) that it intended to end scheduled service to 29 cities across the USA by June as it continues to face an acute pilot shortage. US pilot union Air Line Pilots Association, International (ALPA) blasted the airline, calling the cancellation of those flights "an egregious miscarriage" considering that SkyWest recieved nearly $2 billion in financial aid during the coronavirus pandemic.
On 28 April during the company's quarterly results webcast, CEO Childs elaborated on that decision, and how he hopes to ensure "a smooth transition".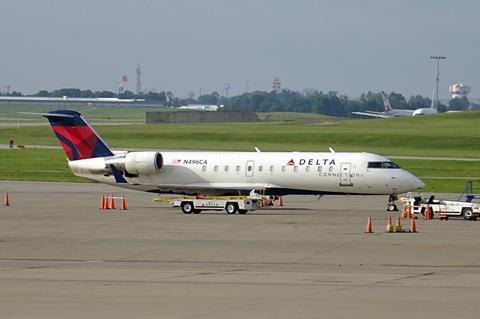 "We have been working with a lot of Part 135 operators and utilise them very strongly within our existing pipeline," Childs says.
"When we notified the DOT of the 29 cities that we had to pull out of - these were profitable cities, these are great markets, but it was just impossible to serve those along with the other contractual obligations we have - when we went through the process, our emphasis is going to be to make sure these communities are well-served with the same level of safety and quality that we had," he says.
"We have invested tens of millions of dollars in all of these cities and we hate leaving these markets."
All of the cities named in the DOT filing are part of the US government's EAS programme, established in the 1970s, which guarantees small communities across the USA a minimal level of commercial air service. The government provides subsidies to carriers serving the cities, which would otherwise have little or no scheduled air service.
Childs also said the Part 135 operators to which he was referring may also be able to use some of SkyWest's 140-strong 50-seat CRJ200 fleet to fly the routes.
"We have plenty of those [aircraft] that are not doing anything today, and there are a lot of [Part] 135 operators that are certified to fly the CRJ200s," he says. "At this time we don't anticipate supplying them with pilots, but there are some good opportunities with [those] operators to help utilise that asset and product and backfill some of the things we have been doing."
"Demand for [air service to] small cities is extraordinarily strong and is probably going to get stronger in 2024," says. Childs. "There could be some opportunity there."