Regional airlines continue to be most acutely affected by the USA's ongoing pilot shortage as SkyWest Airlines remains some 1,200 pilots below its pre-pandemic staffing levels.
Chief executive Chip Childs said during the Regional Airline Association's Leaders Conference in Washington DC that SkyWest currently employs 4,300 pilots, compared with 5,500 pilots in 2019.
"We still have a major pilot shortage that is having a huge impact on us as a company, the entire industry and small communities," he told conference attendees on 26 September. "We are literally 1,200 pilots short."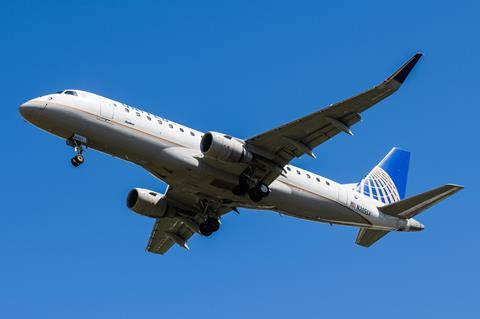 "There is a lot of narrative that there's not a shortage," Childs says, seemingly referring to pilot unions downplaying the lack of qualified flight crews. "But it's absolutely true… The gap is real, the gap is a challenge and I think we're to the point now where it's going to take a very long time to get back to meeting the demand in the regional space."
Childs estimates that SkyWest needs 1,000 more pilots than it had prior to the beginning of the Covid-19 pandemic in order to meet the current demand for regional airline travel. He notes that demand is being boosted by the "de-urbanisation of the United States, where people are moving out of big cities into smaller, mid-sized cities" and the rise of remote- and hybrid-working arrangements.
While the pilot shortage remains a major industry challenge, Childs cautions that aircraft maintenance technicians are also in short supply.
"We are going to need a lot of heavy maintenance to bring those aircraft back online, when and if we solve the pilot shortage," he says.
SkyWest is the largest regional carrier in the USA, with a fleet of more than 450 regional aircraft currently in service, according to Cirium fleets data. The carrier has about 100 aircraft in storage – all Bombardier CRJ-series regional jets.