The lethargic rollout of coronavirus vaccines will delay any recovery for the airline sector, according to Association of Asia Pacific Airlines director general Subhas Menon.
Menon notes that while great hopes are pinned on vaccines, the timespans involved in production and distribution suggest 2021 will continue to be an extremely challenging year for airlines in the region.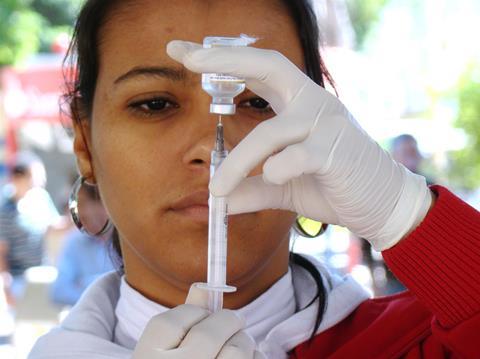 "A person who is vaccinated is not going to fall prey to the virus, but they still need to prove that someone who's vaccinated is not infectious," he says.
"How vaccines will play a part is if more and more countries roll out vaccinations and people in the country are immunised."
Menon is concerned, however, that the rather slow pace of immunisation in some countries could mean it is not until 2022 that people get vaccinated, particularly in developing countries.
He was speaking to FlightGlobal days after the AAPA disclosed dismal full-year figures for Asia-Pacific airlines. During 2020 Asia-Pacific airlines carried 69 million passengers, just 18% of the volumes recorded in 2019. Offered seat capacity was 19% of the previous year, and the average international load factor was a dismal 61%.
Menon notes that a resurgence of Covid-19 cases in recent months mean the outlook is now worse than it was just few months ago. The end of 2020 actually saw monthly upticks in passenger numbers from September to November, but this came to a standstill in December. Though AAPA has yet to publish figures for January, Menon says the negative trend continues.
The key for a recovery, he believes, is for vaccine producers to speed up production, and for governments to approach the Covid-19 crisis in a unified, coordinated manner, as opposed to focusing primarily on their local population.
"Nobody's talking to each other," he says. "Everyone is just looking within their own borders and not thinking of what needs to be done."
Some measures under consideration are downright counterproductive, for example the idea of imposing quarantines on returning air crew, which would depress air travel even more. In addition, policies that hurt airlines will also slow the distribution of vaccines, given the outsized role played by airfreight in vaccine distribution.
He also sees great potential in digital travel passes, such as IATA's Travel Pass. In addition to recording one's immunisations, the technology can also provide travellers exact information on what, exactly, they need before embarking on a trip.
"This sort of thing needs to be worked on and put in place, so that you can participate in the recovery when it happens," he says.