Warning of a potential collapse of air service to smaller cities and rural areas, the Regional Airline Association calls on US lawmakers to intervene amid "declining connectivity for American communities".
"If policymakers fail to do their job, and do not give the pilot shortage the urgent attention it warrants, small community air service will be a thing of the past, and air travel will soon be a privilege reserved for those residing in our urban centres," chief executive Faye Malarkey Black said in the RAA's year-end report, released on 7 December.
Regional carriers have have been haemorrhaging qualified captains and first officers to major US airlines, which have rebounded more robustly from the Covid-19 pandemic. More than 500 aircraft are parked in the USA because regional carriers don't have enough pilots to fly them, the RAA says.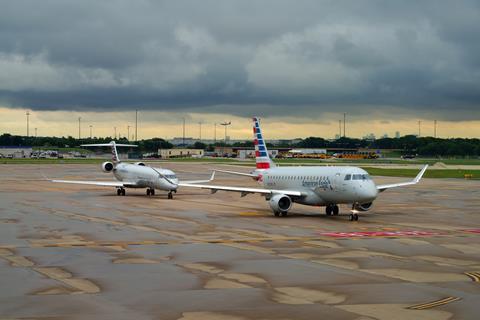 The RAA has been raising alarm bells for months about shrinking networks and lost connectivity due to the pilot shortage. The share of US departures operated by regional carries has declined from 41% from 43% since 2020, the RAA says.
In the report, Black decries the sky-high costs of becoming a commercial pilot and calls for legislation focused on "equitable access to aviation careers" adding that lawmakers "should be moving heaven and earth to make it easier for aspiring pilots from all backgrounds to access affordable, high-quality training".
"We need to bring forward legislation to allow the next generation of pilots and mechanics to obtain student loans and grants," she says. Black also suggests raising the mandatory pilot retirement age from 65 to 67 years old and "promoting flow programs and other investments in pilots already in the pipeline" as potential ways to alleviate what the RAA calls "the small community air service crisis".
In a sign of the pilot-related pressure facing the sector, regional carriers such as Envoy Air, Piedmont Airlines and PSA Airlines have recently dangled signing bonuses of $100,000 to attract qualified candidates – even as many regional airline executives have warned that elevated pay rates may prove unsustainable.
The US airline industry is short some 8,000 pilots, resulting in losses of air service throughout the country, the RAA said 10 November. The pilot shortage has resulted in diminished or lost air service at 76% of US airports since October 2019, with many small communities becoming entirely disconnected from major airline hubs.