Air France-KLM group chief executive Ben Smith believes the flexibility union agreements have given it to develop low-cost unit Transavia at Paris Orly provides the group with a tool to help offset the loss of slots at the airport.
Group carrier Air France is releasing 18 daily slots Paris Orly as one of the conditions for the European Commission's recent approval of a French government €4 billion ($4.7 billion) bailout.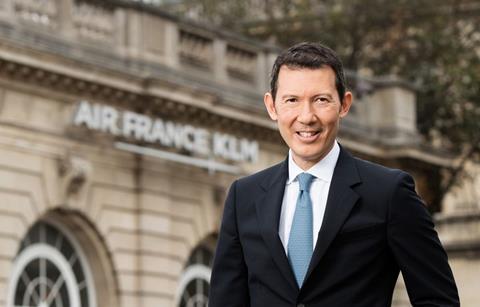 Speaking at the World Aviation Festival today, Smith said it was very frustrating to give up the Orly slots as it is already challenging enough for airlines to recover from the coronavirus.
"We are a global carrier, so it is very difficult to align around these conditions. But they are what they are, and we are fortunate we operate from two [Paris] airports," Smith says.
"Eighteen slots, nine round trips, yes it's tough. But we are in the middle of a major transformation at Orly," he says, pointing to action taken to tackle losses of over €200 million in the French domestic market. "Even before the crisis, we were in big transformation."
That transformation includes replacing higher cost regional operations at Orly with low-cost unit Transavia, following labour agreements brokered with pilots. Smith notes this has enabled a doubling of Transavia's operations at Orly.
"Whoever takes up these slots, at least we now have a tool to fight in a much more powerful way," he says.
The French government had already last year tied its investment to environmental conditions, notably imposing a restriction on domestic flights of less than 2.5h where there is an alternative high-speed rail service.
Smith though notes that the French high-speed train, the TGV, has long been the carrier's biggest competitor on domestic routes.
"We still do offer [domestic] flights from Charles de Gaulle on an international connection basis, but local domestic flights from Orly have been eliminated," he says. "This is forcing us to move faster to put in place inter-modal options to make connecting a little easier.
"We are lucky there is a TGV stop built at Charles de Gaulle, so we are hopeful this will drive more connections through our facility, rather than connecting through other hubs."
Further slot concessions could also follow at the Amsterdam Schiphol base of KLM as the price for regulatory approval of potential Dutch state investment.
"The Dutch state already has approval to convert debt to equity. There are discussions going on with the Dutch state and the European Commission… on when and if is the right time to do that, but I am not in position today to confirm any date," says Smith.
The state bailouts have increased government ownership of Air France-KLM: the French government's equity investment in the group could increase from 14.3% to a maximum of 30%, more than offsetting the dilution of the Dutch government's 14% holding to 9.3%.
Despite concerns around political interference, Smith argues that state involvement in the group is mitigated by its strategy being "fully aligned" with the governments' needs for the sector.
"Our role at Amsterdam Schiphol is absolutely key to the Dutch state and its key to the future of our group to have a strong KLM," he says. "In France, Charles de Gaulle and Orly are key as well. The strategic importance of Air France is becoming more clear throughout the crisis when the French state saw how many people were repatriated around the world back to France."
He describes the recapitalisation as a "huge indication of support" from its shareholders, showing they believe in the business.
"They know we need to have a stable short- and medium-term outlook, so this is really great news for us," Smith says, while not ruling out the need for further potential state investment. "From a cash perspective, it's not a short-term issue for us. [But] we do have a heavy debt that is holding back our balance sheet, so this may have to get looked at again later in the year."
In the immediate future, Smith says the carrier has limited visibility on likely demand for the key summer season. However he is encouraged by the acceleration of the vaccine roll-out in Europe.
"We are planning for 50%," he says of the group's capacity plans for the summer. "We are very hopeful it will be more. We are ready if there is demand for us to fly more."