South Korea's competition regulators have conditionally approved Korean Air's plans to acquire compatriot Asiana Airlines, though it will impose several measures to ensure the merger does not reduce competition.
The Fair Trade Commission's (FTC) ruling on 22 February clears a major hurdle in Korean Air's merger plans, though the carrier will still have to gain approval from regulators in other jurisdictions such as the USA, Australia, China, as well as the EU.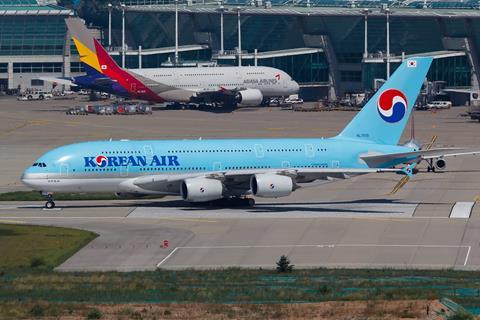 In arriving at a conditional approval, the commission notes that there was "high risk" of restricted competition on 26 of 65 overlapping international routes flown by both carriers, as well as 14 of 22 overlapping domestic routes.
However, it found no risk of reduced competition on cargo routes and with maintenance services.
To this end, the FTC will impose a number of mitigating measures, including requesting that Korean Air and Asiana return a number of slots for certain routes over a period of 10 years to allow other carriers to enter.
Other measures include readjusting air traffic rights issued for certain routes, says the FTC, which notes that the merger is the first of its kind between two full-service carriers.
The commission will also limit the carriers ability to increase fares, or reduce seat capacity, for a number of routes.
The FTC received Korean Air's merger plan report in January 2021, and undertook a "dedicated review" before arriving at the decision.
Adds the FTC: "[The] merger partners, which have competed for a long time, are expected to utilise the benefits of integration as a resource to enhance the competitiveness of the domestic air transportation service industry and increase consumer convenience."
Korean Air first announced plans to acquire Asiana in November 2020, as the coronavirus pandemic turned the country's aviation sector on its head. Since then, it has gained approval from competition regulators in countries such as Singapore, Vietnam and Thailand.
The carrier confirmed in June 2021 that both full-service brands will be merged under one brand, while its low-cost affiliates — comprising Korean Air-linked Jin Air, as well as Asiana units Air Busan and Air Seoul — will also be combined.