The South Korean government has outlined broad measures to support and eventually revitalise the local aviation industry. For airlines, these are focused on capturing synergies.
The retrieval of unused airport slots and allocated routes will be temporarily suspended, the Ministry of Land, Infrastructure and Transport (MOLIT) says in a 3 March statement.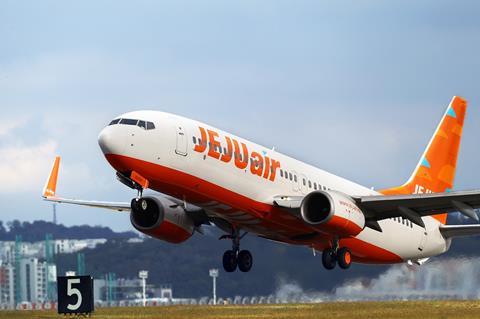 "In addition, airport slots that are not in use by foreign airlines will be temporarily allocated to domestic flights of [local] airlines to expand business opportunities," it adds.
South Korea's aviation laws require airlines to service allocated routes for at least 20 weeks per year, and utilise 80% of airport slots each season.
Meanwhile, permissions for cargo operations will also be expedited, from three days currently to same-day clearance.
To achieve this, airlines will conduct their own risk assessment and post-operations, submit a report detailing evidence of risk-reduction measures. This process will be actively managed by the authorities, says MOLIT.
"By making this possible, the competitiveness of our airlines will be strengthened," it states.
CUSTOMISED SUPPORT
The government is also looking into customised support for each airline, while taking a top-down view of available resources.
MOLIT states: "In order for the restructuring of airlines to improve consumer convenience and contribute to the development of the aviation industry, MOLIT supports the smooth [execution of] market restructuring process, such as overseas business combination examinations, and enables the strategic use of air traffic rights and airport slots between airlines."
For example, Korean Air and Asiana Airlines' Seoul Incheon operations take place during similar times in the mornings and afternoons. It is therefore possible to reorganise these routes by diversifying the available boarding times, says MOLIT, as a means of expanding travel options through active management by the regulator.
Separately, on routes in high demand, particularly those to continental hubs, MOLIT outlines that the two full-service carriers could be designated as providing core capacity. It then aims to manage demand – the upper limit on capacity set according to bilateral agreements with respective countries – with a view on stabilising air fares.
In the same statement, MOLIT says that mid-sized low-cost carriers, such as Jeju Air, have been "conducting relatively sound management", having posted a continuous surplus for seven to nine years before the pandemic and maintaining a relatively low debt ratio.
It adds that Jeju has been particularly successful in operating low-frequency international routes departing from local airports and has a competitive edge, having pioneered that network strategy.
On the other hand, should other LCCs wish to remain competitive when traffic on direct, short-haul routes return – MOLIT cites East Asia as an example – they would need additional funding, which is "temporarily insufficient". MOLIT states that the airlines will discuss with the relevant ministries support plans for the funds needed after the first quarter.
MOLIT also addressed Air Premia and Aero K, the newest airlines to secure business licences. In light of the pandemic, the airlines are given until the end of this year to launch operations, versus March originally.
LONG-TERM VIEW
South Korean authorities are also keeping an eye on the long term, when evaluating support measures to local airlines.
In response to calls from the industry, MOLIT plans to review property tax rates on aircraft, which as part of broader Covid-19 aid have been at least halved.
It states: "[As the pandemic is prolonged] and the relaxed taxation is not extended to major [foreign] competitors, [this may in turn] lead to weakening of the international competitiveness of [local South Korean] airlines. [MOLIT] plans to actively review additional reductions and other benefits."
Separately, MOLIT is also promoting aircraft MRO as a new high-value-added industry and its plans include incentivising the onshoring of maintenance activities by South Korean airlines that was previously outsourced overseas.
The government is also looking to revitalise the tourism industry, by promoting non-landing tourism flights and seeking to establish bilateral travel bubbles, supported by an app-based travel pass to collate the necessary documents.
Unlike previous initiatives focusing only on business travel, MOLIT says it is now aiming for bilateral agreements that will see travel restrictions and quarantine measures lifted for both business and leisure travel.
It will start by expanding the operation of non-landing tourist flights beyond Seoul Incheon, to revitalise local airports.
Then, it plans to start allowing transit passengers on overseas inbound tourism flights. Subsequently, it is considering inbound international tourism flights into local airports that allows restricted movement.
MOLIT states: "Based on policy support such as revitalisation of non-landing tourism flight and travel bubble [discussions initiated] by the government, [airlines] are preparing for the [eventual recovery of] aviation demand after the [Covid-19 pandemic], alongside new strategies and ideas to improve the constitution of the aviation industry, from a long-term perspective."