Two US passenger carriers say they have reached deals with the government on the amount of emergency financial aid promised to the industry as part of the $2 trillion CARES Act, as airlines align their networks to a sharp drop-off in travel demand since the coronavirus pandemic began.
Southwest Airlines, which will be taking $3.2 billion in payroll support, was the first to announce a deal on 14 April, closely followed by American Airlines, which will be getting $5.8 billion.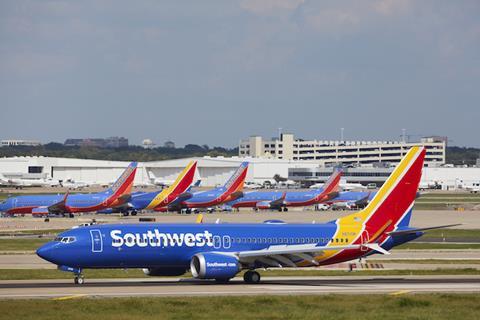 Southwest says it will receive $2.3 billion in direct payroll support and nearly $1 billion in loans that will protect its 60,000 employees through at least 30 September. The Dallas-based airline says the loan is expected to have a 10-year term with low interest rates and may be repaid at any time prior to maturity, and will include approximately 2.6 million warrants issued to the US Department of Treasury.
"As we are now in the implementation phase of the CARES Act, we applaud the quick action by the US Department of Treasury to infuse liquidity into the economy and try to keep businesses open and people on the job — and that certainly includes the airlines and our employees," says chief executive Gary Kelly.
American Airlines, meantime, will take a direct grant of $4.1 billion, and a low-interest rate loan of $1.7 billion. In addition, the Fort Worth-based airline will apply for an additional Treasury loan of approximately $4.75 billion.
"The support our government has entrusted to us carries immense responsibility and an obligation that American Airlines is privileged to undertake," says American's chief executive Doug Parker. "We are elated that this program will enable us to continue to employ and pay our team while they fly through this period of depressed consumer demand."
American's Doug Parker writes in an internal message: "With this level of assistance, we now believe we have the financial resources necessary to help us withstand this crisis and be in position to serve the travelling public when they are ready to start flying again."
Delta Air Lines has confirmed it has applied for the grants but did not say how much support it would be receiving. United Airlines says it will release more information on Wednesday.
Earlier in the day, the US Treasury named the airlines which had applied for the aid, and said it was still discussing financial support with other carriers.
"Alaska Airlines, Allegiant Air, American Airlines, Delta Air Lines, Frontier Airlines, Hawaiian Airlines, JetBlue Airways, United Airlines, SkyWest Airlines, and Southwest Airlines have told us that they plan to participate in the payroll support program," US Treasury Secretary Steven Mnuchin says in a statement on 14 April.
"Conversations continue with other airlines regarding their potential participation. Treasury is also working to review and approve applications for smaller passenger air carriers as quickly as possible and will provide further guidance for cargo carriers and contractors very soon. We look forward to working with the airlines to finalise the necessary agreements and disburse funds as quickly as possible," Mnuchin says.
The CARES Act, worth a total of about $2 trillion, set aside almost $60 billion in loans and grants to US airlines and related businesses that have seen their revenue decline drastically as a result of the global pandemic.
All US airlines have taken dramatic measures to preserve cash as passenger demand fell off a cliff in March, following the imposition of stay-at-home orders across much of the country, as well as travel warnings and restrictions to overseas destinations, in an effort to stem the spread of the coronavirus, which has killed more than 100,000 worldwide.
Load factors have gone from about 80% in January to just over 11% for the week ending 5 April, industry group Airlines for America (A4A) says on 14 April.
The number of commercial flights, which topped 111,000 daily in early January, fell to just 29,800 daily during the week ended 11 April, the association adds.
"US airlines – both passenger and cargo – have seen their strong financial health deteriorate at an unprecedented and unsustainable pace since early March," A4A says. "The safety and well-being of the travelling public and airline employees is the top priority of all US airlines, but the economic impact of this global health crisis cannot be overstated."
Accepting the government assistance comes with strings attached, however. Airlines must pledge to not lay off or furlough any employees, or reduce hourly pay rates until at least 30 September. They must also stop share repurchase plans until 30 September 2021, and the law imposes limits on executive compensation until 2022.
Reports earlier this week said the deal includes conditions that 70% of the money paid out to airlines would be given to them outright, while the remaining 30% would have to be paid back. In addition, the reports said the government would take a stake in the airlines, in the form of warrants, giving the government the right to buy equity at a pre-set price and time, worth 10% of the amount of aid given.
Several airlines have asked the Department of Transportation (DOT) for exemptions to a requirement that they maintain "minimum service" as a condition to receive the aid. The airlines argue that operating even a skeleton network with single-digit load factors is neither reasonable nor practicable while passengers stay away, and will eat into their cash reserves.