Southwest Airlines has described its third-quarter performance as "messy" and warned its troubles could persist as it struggles to match increasing demand with capacity and staffing.
Thanks to US government pandemic-related aid, the Dallas-based low-cost carrier turned a $447 million profit in the three months ending on 30 September, Southwest reports on 21 October. Without Uncle Sam's lift, however, Southwest would have lost $135 million.
That compares to a loss of $1.2 billion in the same three months in 2020. In pre-coronavirus 2019, the airline reported a $659 million profit in the same three months.
Revenue for the June-to-September quarter was $4.7 billion, way up from $1.8 billion in the year-ago period, but still below Southwest's $5.6 billion in third-quarter 2019 revenue.
"The third quarter 2021 was a challenge for us, operationally," says chief executive Gary Kelly. "The bounce in revenue came with a lot of bumps. I will be the first to admit that things are messy."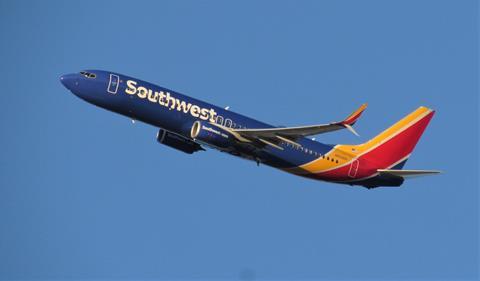 The carrier's load factor during the period was 81%, on the lower end of its previous estimate of 80-85%.
Southwest ended the quarter with 737 aircraft in its all-Boeing 737 fleet, with 24 of those remaining on the ground, Kelly says. The airline expects to end the year with 728 aircraft, returning one leased aircraft and retiring eight more.
Despite deceleration during the summer months due to fears about the coronavirus' more-virulent Delta variant, third-quarter demand and revenue was "quite strong and a dramatic improvement from a year ago", Kelly adds.
CEO-designate Bob Jordan, who will take over the post from Kelly in February next year, says Southwest had "terrific momentum" at the beginning of the quarter, with traffic above 2019 levels, but, he adds, resurging Covid cases cost the airline about $300 million.
"Our third-quarter results are clearly not where we need them to be," says chief financial officer Tammy Romo. "Even so, we are pleased our bottom line came in above expectations."
Chief commercial officer Andrew Watterson says corporate travel was 60% lower than 2019 levels in July and August, and 73% lower than the two-year-ago period in September. The airline expects that metric will improve "modestly" in November and December, to end the year at about down 50%.
"Based on the current cost outlook, and despite the current momentum in revenue trends, the company does not expect to be profitable in fourth quarter 2021," Southwest says.
"While we have made considerable progress, it's clear that 2022 will be another transition year in the pandemic recovery," Jordan adds.
TOO 'AGGRESSIVE'?
Executives say Southwest has been "aggressive" in returning aircraft to the sky and routes to the schedule. But, the carrier's staff levels have not kept up, creating bottlenecks through summer and massive disruption in the early days of the fourth quarter.
Jordan apologised to customers for Southwest's widespread operations issues beginning on 8 October, when the airline had to cancel up to one-third of its scheduled flights on several consecutive days.
"There was a widespread air traffic control ground stop that effectively shut down our Florida operation from that afternoon through the end of the day," he says. As a result, many crews and aircraft were out of position. The snafu took several days to recover from, and thousands of passengers were affected. The carrier says the cancellations and related refunds, as well as "gestures of goodwill", cost $75 million.
In a sense, the airline was a victim of its own success, chief operating officer Mike van de Ven adds. Through summer, Southwest was routinely exhausting its reserve ranks of pilots and flight attendants. "That's a spiral we just have to break," he says.
Executives say Southwest is hiring new staff and has made schedule adjustments to accommodate labour shortages.
"For a long time we had nothing to do. Then, all of a sudden, wham! We had to pick up the pace," Kelly says. "It's been messy."