Southwest Airlines is still feeling lingering effects from its December 2022 operational meltdown, and is now feeling squeezed by Boeing aircraft delivery delays.
The Dallas-based carrier on 27 April reported a first-quarter loss of $159 million, improved from its $278 million loss during the same period last year.
Southwest's first-quarter revenue was a company-record $5.7 billion, up nearly 22% from $4.7 billion during the three months ending 31 March 2022.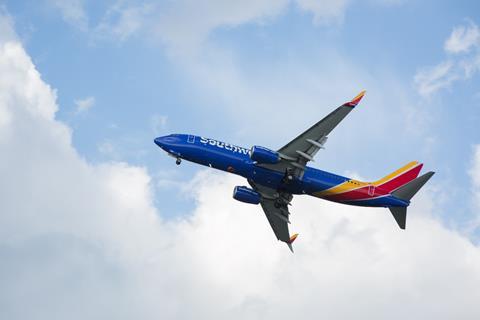 The airline's costs reached nearly $6 billion, however, including $380 million related to Southwest's operational meltdown during the peak of December 2022 holiday travel. Some 16,700 flights were cancelled and hundreds of thousands of air travellers were stranded as the company's crew-scheduling software crashed amid fierce winter weather.
"The majority of this impact was driven by a negative revenue impact of approximately $325 million as a result of cancellations of holiday return travel and a deceleration in bookings for January and February 2023 travel," the airline says.
CUTTING CAPACITY EXPECTATIONS
Earlier this month, another technology issue temporarily grounded Southwest's flights nationwide, with operations resuming within about an hour.
"We experienced a double firewall failure that resulted in an unexpected loss of connection to some operational data," says chief operating officer Andrew Watterson.
"While our technology teams worked quickly to resolve the issue that morning, out of abundance of caution we temporarily ground-stopped the airline," he adds.
Southwest says it has completed a review of its December 2022 performance and is on track to implement an action plan to avoid similar operational disruptions by winter 2023.
The carrier maintains a strong outlook for the months ahead, as it expects its pre-Covid-19 network to be fully restored by the end of 2023.
"Based on current revenue trends and our cost outlook – which includes market wage rate accruals for all open labour contracts – we expect solid profits in the second quarter of 2023 and continue to expect solid profits and year-over-year growth in both margins and return on invested capital for full year 2023," Southwest says.
In a setback to the airline's growth, Southwest says it now expects 20 fewer new Boeing 737 deliveries in 2023 than previously estimated due to ongoing manufacturing and supply-chain issues. It is now expecting to receive 70 rather than 90 jets this year.
The delayed deliveries of Max 8 aircraft have caused a "one-point decrease in year-over-year planned 2023 capacity" in Southwest's projections, and the carrier has also "moderated" its hiring plans.
"The outcome is a reduction to our 2023 capacity and [capital expenditure] outlook," says chief executive Bob Jordan. "And we are currently re-evaluating our hiring relative to our most recent expectation to hire more than 7,000 net new employees this year."
But Southwest's summer schedule will be mostly unaffected by the delayed aircraft. "We have a surplus of underutilised aircraft in our fleet due to pilot hiring constraints," Jordan says. "Therefore, the reduction in our deliveries should not impact our summer flight schedule. We continue to expect our second-quarter capacity to be up 14% year-over-year."