Southwest Airlines is rescinding its warnings of imminent furloughs to almost 7,000 employees after US president Donald Trump signed a government funding bill that sets aside a second tranche of coronavirus pandemic-relief funds for US airline workers.
The Dallas-based low-cost carrier says on 28 December that as a result of the new stimulus legislation, it also does not plan to make any further involuntary cuts to its staff during 2021.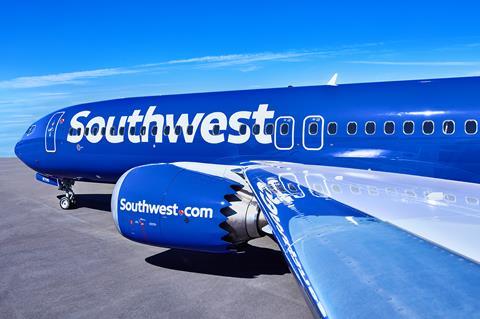 "The new law will provide payroll support for all Southwest employees through March 31, 2021," chief executive Gary Kelly writes in a note to the company's employees. "Given this, we currently do not anticipate the need to conduct any furloughs or pay cuts next year."
"We are halting all efforts to furlough or reduce employees' pay, and officially rescinding the WARN notices, furlough notices, notices of potential impact, and notices of pay reduction for non-contract employees that were previously sent," he says.
WARN stands for "Worker Adjustment and Retraining Notifications", and are a required first step in announcing to large work groups that mass layoffs are imminent. According to US law, employers must give affected employees at least 60 days' prior notice that their jobs are in danger.
Late on 27 December Trump signed the bill, which Congress had approved a week earlier, after spending several days stalling and criticising some of its provisions.
The legislation sets aside $15 billion to US airlines for the purpose of paying employee wages and benefits. The funds come on top of the $25 billion in wage-assistance funds afforded to US passenger carriers under the government's initial pandemic relief law, passed in March.
The additional $15 billion will be available within 10 days, the text says. Carriers taking funds must agree not to lay off staff or reduce pay rates until 31 March 2021.
Earlier this month, Southwest had said it would be furloughing 6,828 employees or 12% of its workforce. If carried out as planned, this would have been the first large-scale involuntary furlough scheme in the company's history.
American Airlines and United airlines have already said they would be taking back the majority of the more than 32,000 employees they furloughed on 1 October after the first aid package ran out, if and when a new deal is agreed.
CRISIS ONGOING
But industry observers are hesitant to proclaim the end of the crisis for the airlines. The relief is temporary, and it is unlikely that the global coronavirus pandemic will be over by the end of the first quarter. In addition, it is unclear what the majority of the returning employees will do, since carriers are already currently overstaffed, and have for the most part set their schedules and their networks for the coming weeks.
"We expect that not all people furloughed will return because some of them will have accepted other jobs, in other industries that may be more stable than the airlines," says Cowen aviation analyst Helane Becker. "The airlines still have to redo background checks, drug tests, etc. and it is likely [the workers] won't be asked to return to work because there is no work for them at this time."
Airlines have said that they don't expect demand to return in a meaningful way until a vaccine is widely available, and immunisation of large swaths of the population has taken place. Medical experts agree that won't likely be the case until mid-2021.
"It's possible that by the end of March more people will be travelling, but with the continuation of lockdowns, the re-imposition of lockdowns, the concerns about the newest strain of the virus, we know that recovery will continue to be very choppy," Becker adds.