Southwest Airlines hopes to break even by mid-2021 as air travellers return in greater numbers.
Gary Kelly, the Dallas-headquartered airline's chief executive, says on 15 March that the company's cash burn has slowed and revenue is improving thanks to increasing demand for leisure travel.
Southwest lost $3 billion in 2020, its first full-year loss since 1972, ending a 47-year streak of profitability.
"It feels like it's the beginning of the end," Kelly says during an investor conference hosted by JPMorgan. "Our hope is that by the time we get to June, where you've had most of the population having had access to vaccinations, we have got a chance at breaking even at least."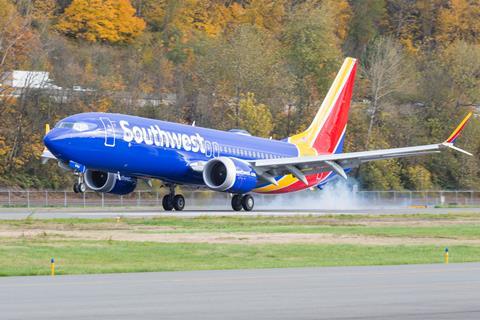 In a 15 March filing with the Securities and Exchange Commission, Southwest said its average daily cash burn in February was $17 million. It expects first-quarter daily cash burn to come in around $14 million.
That is down from a high of $30 million daily in April 2020, just weeks after the pandemic took hold.
"My hope is that by the time we get to the end of this year we have most of this pandemic behind us," Kelly adds.
He joins a chorus of airline chiefs who said during JPMorgan's event that travel demand has been strong in March. Executives hope the trend will build into summer as more people are vaccinated.
But while leisure travel shows promise, the more-lucrative business travel sector is still suffering and will take time to reach a new normal, Kelly says. "We would all be very wise to assume that some things are going to change. This is a big event, it has accelerated the transformation of working remotely and working virtually."
He notes Southwest's call centre employees are now taking calls from home – a shift attributable to the pandemic. "I don't see us going back," Kelly says.
He expects companies will soon send employees back on the road, but likely in lower numbers.
"I'm not convinced that people want to do business virtually," he adds. "Business travel will come roaring back, but then the question comes, to what level?"
"If you look at past recessions, it's taken five years for business travel to recover to pre-crisis levels. That would be my guess this time," he says.
Asked if the government's new financial relief measures may lead to the economy overheating in the coming months, Kelly says that is not one of his main concerns.
"This is the worst environment that we have had in three or four generations. There's a tremendous amount of risk. Keeping people employed and getting us through the trough of this pandemic so that we can all live to fight another day is absolutely critical and doing too little has a far greater disastrous potential outcome."
"We have survived this because of the government grants and have made the commitments to keep people on the payroll," he adds. "The support made the difference."
Last week, the US government set aside an additional $14 billion – in addition to $25 billion last March and $15 billion in December – in payroll support to keep thousands of aviation employees from being furloughed or laid off.