Southwest Airlines reported a $915 million loss for the second quarter and says it expects customer demand to return to pre-coronavirus levels only once there is a vaccine to protect travellers.
Operating revenue for the quarter at the Dallas-based low-cost carrier was down almost 83%, to just over $1 billion.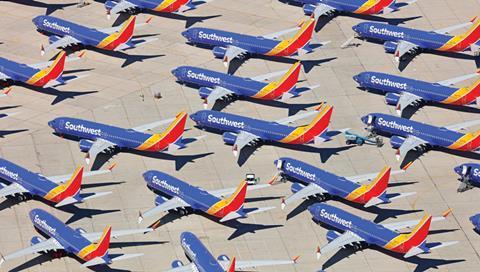 "This year and next year will be a game of tactics and iterations," Southwest chief executive Gary Kelly says, calling the recovery "a long, saw-toothed slog", at least until a vaccine or therapeutics are available to combat the infection and spread of Covid-19.
"We know we have a long, long way to go and we will manage the health of our company accordingly," he adds.
The airline is preparing for long-term volatility, similar to what it experienced in the past four weeks. A rise in forward bookings was followed by a spike in coronavirus cases in the southern US. That surge, coupled with new quarantine requirements in some northern cities, prompted a wave of new reservations cancellations.
"We were encouraged by improvements in May and June leisure passenger traffic trends, compared with March and April; however, the improving trends in revenue and bookings have recently stalled in July with the rise in Covid-19 cases," says Kelly.
The airline is "aggressively and frequently" adjusting its schedule as it goes, the company says.
Originally planned revenue and load factor estimates for July and August have been revised downward to reflect this new reality. Southwest now expects to have a July load factor of 40-45%, and an August load factor of 30-40%. September capacity, previously expected to be 10-15% lower than last year, will now be down 20-25% year-on-year, Southwest's president Tom Nealon says.
CASH BURN SLOWS
Like peers, the airline experienced slowing cash burn during the second quarter as the aforementioned demand for forward bookings trended upward. Average cash bleed in June was $16 million per day, down from $30 million per day in April.
But that stopped as coronavirus cases skyrocketed, and vacationers again put the brakes on plans.
"Our average core cash burn in July 2020 is currently estimated to be approximately $18 million per day, higher than June as a result of weakening revenue trends. Due to the reversal in trends, we are re-evaluating our August and September 2020 capacity plans in an effort to improve our third quarter 2020 average daily core cash burn, which is currently estimated to be…$23 million per day," Kelly says.
Chief operating officer Mike Van de Ven says the airline grounded 400 aircraft at the height of the crisis in April, and has since reactivated 300 of those. The all-Boeing 737 fleet has kept things simple, and the airline says it remains committed to the new 737 Max. That type has been grounded for more than 16 months after two accidents killed 346 people.
"It is the most cost-effective airplane and having it back in service will give us more certainty in terms of fleet planning," Van de Ven says. Though the airline is planning for it to return to the active fleet in late December, "given the history of delays that could slide in to the first quarter", he adds.
The airline is committed to take 48 new aircraft from Boeing through end of 2021, chief financial officer Tammy Romo says.
NO FURLOUGHS PLANNED
About 16,900 employees, or 27% of the airline's total workforce, have volunteered for early exits, reduced hours or temporary extended leave programmes, which will relieve the company of about $400 million in salary, wage and benefit expenses during the fourth quarter 2020 alone, Southwest says. As a result, Kelly says at this time the company is not planning to implement involuntary furloughs, layoffs or cuts in pay and benefits.
But, he adds, Southwest remains "laser-focused on returning to break-even cash flow, and we will continue exploring opportunities for further cost efficiencies".
He describes the airline as "like a patient in intensive care". And though cost-cutting is an effective way to keep the company afloat, "you can't cut your way to break even. Ultimately you will need more passengers."